Stuttgart, Schleyer Halle, 28th & 29th March 2003
Set List
Long Cool Woman / I Can´t Let Go / Sorry Suzanne / Bus Stop / On A Carousel / Blowin´ In the Wind / Carrie Anne / He Ain´t Heavy / Stop Stop Stop / The Air That I Breathe / It´s In Everyone Of Us
The Porsche Oldie Night is an annual event at Stuttgart's Schleyer Halle, selling out months in advance every year and regularly attracting top Sixties and Seventies acts.The venue is well suited to this prestigious event, a modern 10,000 capacity indoor arena which operates as a key business unit in Stuttgart, staging sports events and rock and pop concerts, as well as commercial events. Stands around the sides are seated, with several tiers at stage level for waiter-service food and drink and there is also a large standing / dancing area immediately in front of the large stage.
This year, both shows were sold out and the atmosphere inside the arena electric with the German crowd out to have as good a time as ever. Hello, The Box Tops, Legends of Doo Wop and the late Edwin Starr were among those sharing the bill with the Hollies, the band sandwiched between "Legends" and Edwin Starr and taking to the stage at about 9pm, introduced as the "Legendary Hollies." By this time of the evening the audiences were well-warmed up and eager to give the band two amazing welcomes.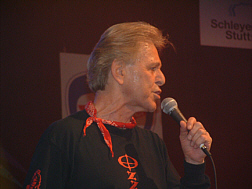 Unexpectedly, both performances were filmed, giving Carl the chance to relive some of his old days with the Move as he encouraged and teased the camera-men. The set-list was relatively short, the band only on for 40 minutes or so, but in each case the crowd were given the full-on "hits treatment" and judging by the deafening responses at the end of the sets, not disappointed.
The Friday night was full of laughs, Carl reveling in the chance to flirt with the cameras and addressing the crowd in better German than ever, despite insisting "Mein Deutsch ist scheisse" !! The enthusiastic bouncing on the spot during "Stop Stop Stop" has returned, and at one point towards the end of the set Carl left the stage to mingle with the crowd at the front. Falling backwards as he scrambled back up the cry "Oh, mein ass!" resounded around the stadium much to the amusement of the audience. A certain stuffed rabbit had also found its way into his hand, and spent the rest of the evening at the foot of Bobby's drum kit.
Saturday night was just as much fun. Still bruised from the previous night's antics, Carl decided not to brave the crowd this time, though he had just as many laughs with the camera men. The same set was played and the same energy projected. If anything, tonight's crowd were even more welcoming and enthusiastic, the response at the end of the set shaking the walls of the stadium with clapping, cheers and the stamping of feet. A pity the band couldn't have played just that little bit longer, but a lasting impression was undoubtedly left.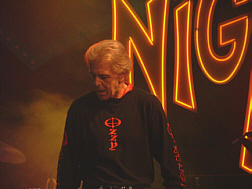 Review and photos by Helen Macdonald. For more photos of the weekend in Stuttgart, please see the gallery