carl wayne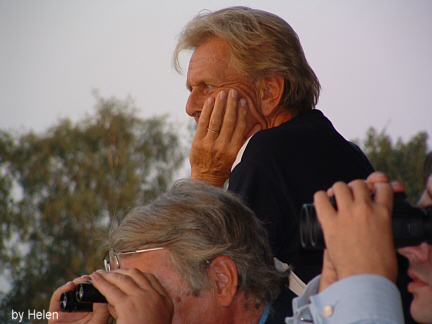 newmarket racecourse, august 8th 2003
On Tuesday 31st August, at 2am in the morning, Carl Wayne passed away peacefully in his sleep.

One of the most distinctive and versatile voices in music, Carl was the lead singer and front-man of influential and legendary Birmingham group, The Move, which he founded in 1965 with Roy Wood, Bev Bevan, Trevor Burton and Ace Kefford. A true musical pioneer, Carl sung on Flowers In The Rain, the very first record played on BBC Radio 1 in 1967 and achieved major success with a series of Top 10 hits that included I Can Hear The Grass Grow, Blackberry Way, Curly, Fire Brigade and Night Of Fear.

Though Carl had recently been diagnosed with cancer of the esophagus, the illness had not interfered with his session recording or concert tours with The Hollies, whom he joined in 2000. During the group's European shows in July, Carl was his usual enthusiastic and energetic self, dominating the stage and dazzling the audience with his superb performance and vocal skills. A few weeks after his last concert with the band, Carl went into hospital for a routine check up. Without warning, his condition suddenly deteriorated and within a few short days, with his family at his bedside, Carl died.

Carl was born on 18th August 1943 in Dudley Road Hospital, Birmingham. His first professional group was the highly respected and popular Brum band, Carl Wayne And The Vikings, who were signed to Pye Records. After leaving The Move in 1970, Carl worked extensively in theatre, television, film and cabaret. He married Sue Hanson in 1974 and the couple had one son, Jack. Carl was one of the UK's most in-demand singers and recorded countless sessions for the music and advertising industries worldwide. In 1990, he played the role of The Narrator in Willy Russell's West End hit musical Blood Brothers, a performance that was acclaimed as "definitive" and lasted six years. A great campaigner for Leukaemia Research, Carl regularly ran marathons in support of the charity, his last being the London Marathon which he completed in just over 3 hours, 30 minutes.

For the last five years, Carl had been busy resolving various long-standing problems that had prevented The Move's catalogue from being remastered and released on CD. Working tirelessly on behalf of his fellow band members' and in conjunction with music publisher Bucks Music and Move and ELO archivist Rob Caiger, Carl had negotiated a solution and in doing so, recovered many of The Move's master and session tapes, including previously unreleased material. He was also working on making his solo material from the last 30 years available and this included recordings made with Roy Wood after The Move.

The release of The Move's catalogue, together with Carl's solo work, will form a very special and fitting tribute to the singer. A charity memorial concert, celebrating Carl's life and career, is being planned and will be held later this year.

Our thoughts and sympathies are with Sue, Jack and Carl's family.

For information on The Move, please visit their official website at www.themoveonline.com.
Tuesday 7th September
Sue and Jack would like to thank everyone that has sent flowers, cards and condolences. It is very much appreciated.

A charity memorial concert to celebrate Carl's life and career is being arranged for next year and everyone will be welcome to attend. As soon as details are available, they will be posted online.

Thank you all once again for your kind words.

For all other enquiries, please contact Rob Caiger at Face The Music