St Albans, Alban Arena, 26th February 2003
Set List
Long Cool Woman / Just One Look / Jennifer Eccles / Yes I Will / Look Through Any Window / Sandy / Butterfly / I'm Alive / Fire Brigade / We're Through / On a Carousel / Blowin' In the Wind
How Will I Survive / Sorry Suzanne / Here I Go Again / The Baby / Soldier Song / Gasoline Alley Bred / Too Young to be Married / Bus Stop / / Blackberry Way / Carrie Ann / Stop! Stop! Stop! / The Air That I Breathe / Tiger Feet / I Can Hear The Grass Grow / He Ain't Heavy / It's In Every One of Us
The opening night of The Hollies' new tour has been much anticipated for many months for two reasons; 2003 marks the Hollies' 40th year in showbiz. This first show also marked Carl's return to the stage after his illness.
The Alban Arena is a soulless, medium sized venue in a small town situated north of London. However, tonight the sign in the window read "Sold Out" and as we entered the packed foyer it was clear we were in for a good night. Carl and the Hollies were back.
The new show is packed with surprises and differences for the regular attendee. It opened with atmospheric, haunting music, the strains of a harmonica filtering through the keyboards. The guys took to the stage one by one to delighted claps and cheers from the audience. Traditionally, Carl came on last, dressed in a fabulous new black suit and looking very trim and happy. He was met with a standing ovation from the front few rows and as the sound built the guys launched into "Long Cool Woman". It was a great moment, and refreshing to hear this song as an opening number as opposed to the usual closing one. It worked very well to start to get the audience in the mood.
Familiar hits "Just One Look" and "Jennifer Eccles" followed in close succession, to the usual delight of the audience who seemed to know most of the words. References to the band's 40th anniversary and special homage to Tony and Bobby followed as Carl introduced the next number as his favourite Hollies song, "Yes I Will". He was really starting to warm up now, in finer voice and form than ever. "Look Through Any Window" rocked, with some tight harmonies and stunning guitar work from Tony. No-one could have guessed the band had been apart for so many months and this was turning out to be some reunion.
Next followed the first "new old song" of the evening – "Sandy". This one has been requested many times by fans for inclusion in the set and now I see why. Carl's vocal on Bruce Springsteen's laid back, soulful ballad was both spine-tingling and mellow. The song is just beautiful, suiting Carl's vocal range perfectly yet leaving lots of room for expression both lyrically and melodically. I am ashamed to say this was the first time I'd ever heard "Sandy", but I can't wait to hear it again. The song also saw fine performances from the other band members with a great guitar solo from Alan Coates and some lovely keyboard work from Ian. Needless to say, this one was met with a terrific reception.
The next highlight was the addition of classic Move track "Fire Brigade". The band really went to town on this. There may not have been any bells, but they made up for that with an up-tempo, rocking version which they all really seemed to revel in and enjoy. With Carl singing the verse, it was left to Ray to take the bridge which he performed splendidly, putting a really different slant on the song. The "oohs" were collective, absolutely spot-on and Alan and Tony's backing vocals blended perfectly. Definitely one for the Move fans; the boys have really done Roy proud this time. Right now I can't imagine a better live version.
Traditionally, "Blowin' in the Wind" concluded the first half. What a relief it was to hear Carl's sustained, soaring notes fill an auditorium again. Nobody could ever have guessed he'd been ill, he sang this with more strength and passion than ever.
The show's second half opened with a fanfare-like refrain which gradually subsided into the opening chords of the recently and newly recorded "How Will I Survive" This is an up-tempo, rocky number with a very 80s feel. It gives the band some great opportunities to blend voices and harmonies and sees more nice guitar work from Tony. Let's hope they build on this with some more new recordings, preferably a whole album of them.
Thankfully, they kept "The Baby" in. This is an absolute favourite of mine and it was great to hear it again. There is something about its sheer drama and originality which makes it magic; Tony's guitar sitar combined with Carl's powerful vocal and the emotive lyrics never fail to bring a lump to my throat; the whole band seemed to become totally absorbed in this one tonight. "Soldier Song" followed, more poignant than ever with the World on the brink of war. As ever the vocal performance was amazing and unrivalled; Carl Wayne is well and truly back.
After a much-deserved thunderous reception to "Soldier Song" Carl left the stage to Ray, Tony and Alan who performed excellent acoustic versions of the popular "Gasoline Alley Bred" and "Too Young To Be Married" Both made for very interesting performances from the guys, Ray and Alan being given the chance to shine vocally and Tony taking the lead vocal on his own song. This was a very welcome surprise; his interpretation is extremely different to Carl's, but the guitar work as amazing as ever.
The penultimate Move number of the night was "Blackberry Way". Clad in an Ozzy Osbourne shirt, Carl enjoyed this one as much as ever, inviting audience participation. The Hollies' version of this song has become the definitive for me now; there is something about Carl's unique interpretation that is lacking on the original recording.
"Stop! Stop! Stop!" prompted tales of German brothels, a great extended intro from Tony and finally had them dancing in the aisles. "Air" was as gorgeous as ever. The "Long Cool" outtro has been replaced by yet another Move number, a storming version of "I Can Hear the Grass Grow". Nothing could have prepared me for this one; once again, Carl took the lead while Ray and Alan supported by providing Roy and Ace's original vocals. This one has the potential to get better and better and will really rock the larger, more enthusiastic crowds. Tony commented on how pleased he was to get the chance to play this and, once again, the band really did it justice, throwing themselves headlong into it.
"He Ain't Heavy" and "It's In Every One of Us" were preceded by a short speech by Carl on his recent illness and the desire to sing again seeing him through the last six months. Both songs were all the more powerful and poignant as a result, ending the evening on a real emotional high for both band and fans.
Words cannot describe what a relief and a joy it was to see Carl back up there giving all he is worth. As confidence increases and momentum gathers, this tour can only get better and better. If you're going, you are in for a treat. If you're not, to quote from an old review of "Blood Brothers" – "If you have to steal an usherette's uniform to get in – do it!!"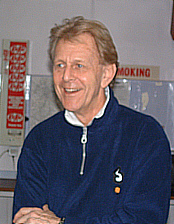 Photos and Review by Helen Macdonald