Arena, Cologne, 22nd March 2003
For those of us more used to watching The Hollies at home in the UK, seeing them when they played at the Oldies Total Festival at the Cologne Arena in Germany on Saturday 22 March 2003 was a very different experience indeed.

On tour dates at home the Hollies play without a support act so we get a good two hours of their music. The festival in Cologne featured a dozen different acts, kicking off at 18.30 with Harpo and finishing some seven and a half hours later with Slade. The Hollies were 9th in the running order sandwiched between Boney M and Suzi Quatro, before both Sweet and Slade but after the likes of Smokie, The Tremeloes, The Searchers and Pussycat.
It was great to be able to see so many good acts in the course of a single evening, but the downside was that each act played only a very short set.
The Hollies were on stage for just over 40 minutes. The audience were definitely up for a good time and determined to enjoy themselves so with such a limited amount of time at their disposal The Hollies sensibly stuck to playing some of their many hits and we had to do without the Move numbers, as well as favourites like The Baby and Soldiers Song.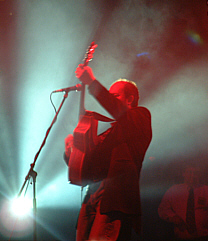 The German audience had no idea just what they were missing though and gave the band a rousing reception and a deafening standing ovation.
Review by Tina Bartlett
Photo by Charlie Borrington