tribute by ulli eichblatt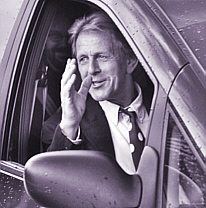 carl in germany, july 2000
I first met Carl on July 7th 2000 when my dear friend Arnim Kilgus and I organised the very first Hollies concert with the new line-up (after Allan Clarke left) for Daimler-Chrysler in Sindelfingen, Germany.
I was completely shocked when the blonde guy in the back of my car suddenly started talking to me - in German! Before that I'd tried to put my best English together - which of course is not that perfect. From this moment on there was an indescribable warmth between Carl and myself, although I told him that I'd never liked The Move. He wasn't mad about that, instead he liked my honesty.
Carl was impressed when I told him that I am a guy of today's music. I told him that I included Allan Clarke in my Et Cetera project and founded "Et Cetera feat. Allan Clarke". He was interested in what we did and what we achieved, so I suggested we do something similar together. What could you expect from Carl but a "yes"?
In the end it was two years before we found ourselves in my little Blue Room Studio in Heilbronn where I normally produce Dance and Trance music. But in the meantime there were many nice conversations and meetings where we had some really good laughs. It was like growing-up (in a way) together - but the most important thing for me was that he became a dear close friend who even gave me some brotherly advice when my girlfriend left me.
In the past fifteen years I've recorded with many people, but swear I've never never met a more professional singer than Carl. When I told him "Carl, would you please try Soldier's Song because we have to find the right level on the desk" I said to my engineer Mimmo T. "just press the record-button". In the end Carl sang the song three times, but the very first recording was and still is the most impressive and can be found on the CD-single.
I taught him how to sing the German chorus of "Soldier" - it was more like fun than work. I couldn't stop him, whether it was "White Christmas" or "Blackberry Way" and he wanted to sing them in German too. He WANTED to sing "When The Boys Come Home", he WANTED to sing "He Ain't Heavy" and "Sorry Suzanne". Nothing could stop him. Not even me! And while Tony was mixing and Arnim was doing the video, Carl and I were like little boys, laughing about the stupidest things, behaving like grown-up children. But from one second to the next, we were professionals, recording a video-clip for "Soldier Song" or a "ready for TV" interview.
We talked about how we would release the songs and how we would present them. How they should be mixed and re-mixed, always thinking forward, being part of today's music industry. Though it was business, all these experiences touched our lives more than we thought - working and having a lot of fun together - and being close together in our hearts and thoughts.
Though Carl was unsure about releasing "Blackberry Way" he was happy when I told him about our new entry at No. 26 in the Mallorca Charts. It was also great to see that it climbed to No. 20, but unfortunately I could not inform him when it reached No. 16, where it is now.
I will definitely achieve all the things that we planned and talked about, in a serious way but also in OUR "we will do it anyway" style. You've not heard the last of "Et Cetera feat. Carl Wayne" and our project will live on ... that's a promise.