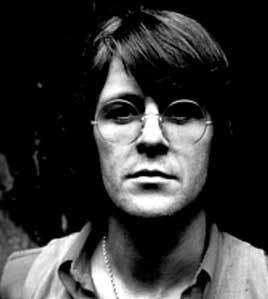 When I see young people today camping out on the streets to buy tickets for a re-union "Pixies" tour , I go Nice one!! These kids will get to see a band that they IDOLISE and LOVE , but a band that are coming from a few generations back from them!! Well that was me in 1979 , when I found out about "THE MOVE" through my love of E.L.O!
The difference was I NEVER got to see the INCREDIBLE POWERHOUSE that was "THE MOVE" in their live heyday (66-70). One of the main reasons a band like this could pull-off such incredible show-stealing gigs with "Pink Floyd" and "Jimi Hendrix" on the same bill was a one-off mixture of GREAT SONGS-(Roy Wood),INCREDIBLE DRUMMING(Bev Bevan),
HARMONIES AND COOL ROLLED INTO ONE(Trevor Burton & Ace Kefford)and a voice louder than the WHOLE BAND...........(Carl "Charlie" Wayne).
Carl was born on 18 August 1943 in Dudley Road Hospital, Birmingham , he died two days ago of cancer. His story is out there , just go googling , but MY STORY is simple , he was part of my life in a band that gave me goosebumps at the very sight of their Pop-art LOGO!! I drew it all over my school-bag , my copies , my fuckin' tee-shirts!! "THE MOVE" where MY Pixies. When Sid Vicious was standing up on a motor-bike and miming to "C'mon Everybody" ,I was playing "THE MOVE" live doing "Something Else" 10 years previous to that and it was LOUDER AND MORE VIOLENT THAN SID?? I was wondering what all the fuss was about!! Punk - SPUNK??
ROCK & ROLL is what it will always be and Carl Wayne had a rock & roll voice with a pop twist that was matched by none. My bootleg video clips of "THE MOVE" consist of a 3 song live set from '67 and it's STUNNING!! Dave Gregory and Andy Partridge FELL OVER when Duncan and myself passed on these clips to them!! Carl left "THE MOVE" to pursue a slightly more mainstream pop road but FUCK IT.....He will always be Carl Wayne!!
All I can say is I'm glad Gary Crowley interviewed Carl last year for an hour of insightful fun and memories , an interview that only proved that "The Hives-The Strokes-The Libertines" and all the other "THE" bands could never ever hold a candle to "THE" MOVE". Pete Doherty takes drugs? Mmmmmm , never heard that before. "THE MOVE" where one of only TWO "institutions" in the entire history of Great Britain to be sued by a sitting English Prime Minister for alleging he was having an affair with his secretary!! He was-They lost!! They didn't mind!! Carl , Roy and the rest of the band would pop down to their "Marquee" residency and smash up T.Vs , old cars and burn effigees of HITLER , all the while two gorgeous strippers would be undressing on the bonnets of the cars!! That's a full workin' day lad , AND DON'T YOU FORGET IT!!!!!
I could go on and on AND ON but PLEASE promise me this....?
If you enjoy PUGWASH music - YOU HAVE TO BUY "THE MOVE"!!!!
It's a given.....
Carl will be remembered for many things (He also sang the theme tune to "New Faces" in the 70's!! Remember , "You're a star , you're a star.....) but it's great to see "I can hear the grass grow" being mentioned so much as it is a truly AMAZING vocal from a 23 year old kid. When THE PUGS play this track it is so dependant on that fantastic double-vocal and myself and Duncan never mess with Carl's arrangement , though we always pay homage to Carl's often HILLARIOUS attempts at "Sixties" dancing.....?????
Thanks Carl from myself and EVERYONE I know who's lives you've touched with your sheer talent and remember now that in heaven "There's a bloke up there looking for a band"!!
TW.