tribute by shari olson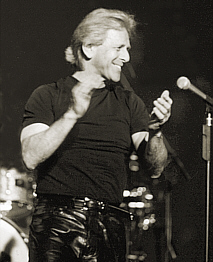 I've been a Hollies fan for 30 some years. Being a Hollies fan in the 70's in America is like speaking a different language from anyone else you know.
You can only imagine how excited I was when they came near me in 2002. I'll be honest, I was terribly disappointed to find out Allan Clarke was gone. I had no idea who Carl Wayne was, and was totally prepared not to like him, or give him much of a chance. The fact was that I hardly gave it much of a thought, and was totally mesmerized by the concert speaks volumes to Carl's amazing talent. When he was gracious enough to acknowledge Allan Clarke's contribution, I was a goner. He was totally forgiven for not being Allan, and I could enjoy him in his own right.

My dream had come true, I had seen the Hollies, and I could now die a happy woman. In reality a tiny seed of discontent was planted. I wanted to see them again. Once was not enough. The seed was watered by the reports of the U.K. fans who could see them many times, and by my American neighbor Bruce who had gone over to see them, and now could call Carl his friend and have a new prized name "Bruciebaby" coined by Carl himself. Through all of you, Carl became a real person to me. His amazing vocals, his presence on stage, his willingness to meet the fans.

I made sure I got his photo from the local paper, and eagarly awaited "How Will I Survive" as his song with the Hollies. I planned to meet with Bruce over Labor Day and share music. We never dreamed that this would be happening a few day after his death. I now am finally hearing more of his voice, and reminding myself, he's no longer with us.

His death like for most of you, was like being hit with a ton of bricks you never saw coming. My reaction after the shock stunned me. I cried off and on all the rest of the day. I was confused why I was so devastated when I had never actually met him. The reasons I believe were: Sadness for those who knew him personally. Sadness for the Hollies. Sadness for Carl who was so full of life, and died way too young, when he had so much more to give. Sadness for myself. As an American fan, I knew I'd probably never see them again, but I didn't realize how much hope I still carried. I even thought I might meet Carl someday through Bruce. All that was gone.

What I have to say now is this. Rest in Peace Carl. Sing your heart out with the Angels. Thank you for what you gave on Earth. The music. For those who have known you for decades. For the Hollies fans, who had been fans for years, and for the new Hollies fans that became fans because of you. For those who not yet discovered your music, but will.
If any of us had given to others a fraction of what you have, we could claim a life well lived.

Good-bye Carl.

Shari