tribute by ray stiles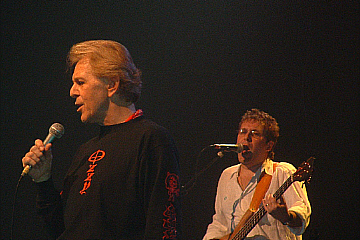 carl and ray on stage, april 2003
I will miss him, I'm missing him already.
Whenever I stop to think about the Hollies in any way, it's always the period spent with Carl that seems to come to mind first. Strange really, because the Hollies had been my home for over 14 years prior to Carl with some great times and shows to remember with 'Clarkie'. Maybe that's the reason. The Hollies have always been a great live band - always willing to try something new, never willing to just sit back and live on reputation and past achievements. When 'Charlie' came in he brought something exciting, a new way forward.
He brought that incredible voice, a voice that I had loved since my days in Mud. What a thrill it was to work with a person I had long been an admirer of. He never knew what I thought because I never told him. Night after night, on tour, I would listen to him sing - I mean really listen - and I absolutely loved it. He knew the music, he understood it and he did it justice in every way, his way.
He also brought a stage know-how and craft that only the very best performers have. He had it in abundance - the number of times I've smiled as I sat and watched him weave his magic on stage. Many's the time we came off stage and told him he was just great, he led from the front and that was such a comfortable feeling. Yet he would be the first to say that it wasn't just about him.
He loved being in the Hollies and in the end the fans loved him being there, look at the reviews. He was in the limelight and that's exactly where he deserved to be. He had time for everyone and was a genuinely nice man. He always brought a happy atmosphere to shows and I respected him greatly. He had a simple job to do, something very natural and easy for him - just to sing. But the great artists always make things look easy, don't they? And yet, at times, this straightforward man could be complex and difficult to understand. Carl and I had differences - these things happen in bands - but we always sorted it out and I know that he respected me as much as I did him. As far as I'm concerned, I have been honoured and privileged to work with a great professional, a great singer and a lovely man.
Carl, I learned a lot. In the words of a song: 'Simply The Best'.
With love,
Ray