tribute by mark meli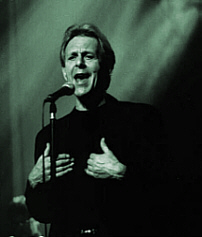 My introduction to Carl began in a round-a-bout way. In the summer of 1972, my brother inherited a box of promotional 45s from a friend of a friend who worked at a radio station. One of the singles was a Capitol Records pressing of "Tonight" by The Move. Needless to say, it was the highlight of the whole box. Soon, a quest was under way for more music by this mysterious band known only as "The Move."

First, we found the SPLIT ENDS album and soon the A&M Records two record set, THE BEST OF THE MOVE, featuring a great sampling of the group's 1965-1970 work. That was my introduction to Carl Wayne - one of the best voices in all British pop.

Over here in the US, it literally took us the rest of the 1970's to manage to collect all of the available Move material. Each new find was a treasure to my brother and I. Even though we appreciated Jeff Lynne and ELO as producers of hit singles, there was no match for Carl Wayne, Roy Wood & Bev Bevan. SHAZAM was constantly on our turntable from 1977 to 1982. Once my brother moved out, I had to get myself a copy to wear out.

Over the years, often was the time my brother and I wondered what happened to Carl Wayne. "That's a million dollar question" my brother once said, back around 1998. I had pure delight giving him the news in 2000 that Carl was a member of the Hollies. Being Hollies fans too, we didn't know if to feel good for the Hollies for finding Carl - or feel good for Carl now having a fantastic band to play with - which was better??

Outside of the Hollies cut from last year, I haven't heard any work with The Hollies and Carl. I only know what I read, and that was all good. I do hope that there will be an official release from the group featuring their work with Carl, even if it's only live recordings of previous hits.

Thanks to Carl for sharing his tremendous talents.

God bless to Carl's family.