tribute by linda janes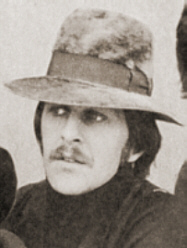 My first memory of Carl and The Move was when I was about 14 and, like Jane and a lot of us girls, I guess just "fell in love with him" !! His good looks and his cheeky smile were enough to get me smitten and he was plastered all over my bedroom wall. I joined the fan club, bought every record going, bought every magazine he was in, he was all over my school books and bag, even pictures of him in my desk at school!! I made scrapbooks, did paintings of Carl and the other Move members. Then the news came that he was leaving The Move. I wrote him a fan letter, but never got to send it ( I still have it). I was devastated that this man was leaving the band I'd followed, there were plenty of tears!!
I lost touch with what Carl was doing as I was growing up, then I found out that THE Carl Wayne had a wonderful, informative website and, via a friend, was told that he now had joined The Hollies. "Whoopie!" I thought, "would I really be getting the chance at long last to see Carl actually singing!!" Didn't matter that he was singing Hollies songs, just to see the man himself !! Little did I know when I saw him for the first time in Dartford 2001, that he would indeed be singing a couple of Move songs. I will never forget when he stepped out on the stage and my friend nudged me and said "there he is!" My heart missed a beat, for after more than thirty years my idol was there in front of me !!
Then I got the chance of actually meeting Carl at the Chatham concert in 2003. I was nervous as he shook my hand, then he ruffled my hair and said "I love yer hair!!" Well, that was it I was "in love all over again" !! He was great and signed a number of things I had bought along, had a quick chat, then it was time for the concert in which the darling Carl dedicated 'Long Cool Woman' and 'Blowin in the Wind' to me. I felt in seventh heaven. That was the start of many meetings and photos at stage doors. My poor, long suffering Mum even met him in Birmingham and yes, she thought he was lovely too!! I will say one thing about Carl, he never forgets a face, and even asked at the Bournemouth convention a couple of months later, had I bought my Mum and how was she. She was really chuffed that he could remember her.
There are many things I will cherish of Carl; the photos, the autographs on CDs, old magazines, tour books, a personal thank-you letter. All these things add up to one amazing person who stepped into my life all those years ago and who came back into my life for only a short space of time, but in that time boy did I love it!!
So, one more thing to add. Carl, you were a joy to listen to, a joy to watch, you were someone who was in tune with your fans, who would give each and every one of them a bit of your time and a bit of you, be it in a personal joke with them, a photo or just a hug, kiss or a handshake. You made us all feel on top of the world and we went home smiling and happy.
Carl, till we meet again in heaven.
All my Love,
Linda XXXXX