tribute by laurie hornsby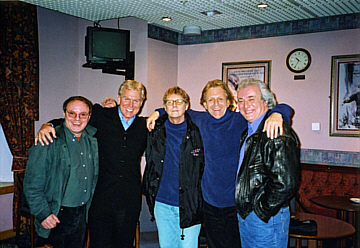 laurie, dave willetts, ace kefford, carl and pat wayne in birmingham, march 2001
Woke up this morning half asleep with all my blankets in a heap. And then the phone rang. It was the call that, deep down, I'd been dreading. Charlie had gone. My dear friend, everybody's friend, Carl Wayne, had lost the battle that he'd fought so courageously and with such dignity. This time last year Carl and I were planning a theatre tour based around my second book 'Brum Rocked On' in which Carl figured so heavily. But fate has decreed this not to be.
It's now the early hours of Friday 3rd of September, the third day indeed from Carl's passing, and it seems easier and, in a strange way, comforting, to write a few words about the man who by using the vehicles of his unique singing voice, his charismatic stage presence and his genuine friendship enriched so many lives.
So let's roll away the stone and release the spirit. For me I go back to the Christmas of 1963 when, as a 15 year old ragged arsed kid I'd smuggled myself into the 'Daddy G Twist Club' at the Bournbrook pub in Birmingham where Carl Wayne and the Vikings were in action. As the girls twisted and twitched around their handbags to the hit song of the moment 'Hungry For Love', a voice so pure in tone and wondrous in feel cut through the Woodbine fumes and rang out around the full to capacity room. Yeah, like most every other kid in Brum at that time, I was hooked.
A couple of years on I was fortunate to witness a very early Move gig. Although their set was heavily steeped in covers of Tamla material, it was obvious to all present that Charlie Wayne and the lads were on their way to something really special.
As a hick musician I was lucky enough to play in support of the Move during the summer of love. By now they had three massive hits under their belts and fan adulation had arrived in no uncertain terms. Did it affect Carl? Of course it did! In the nicest possible of ways! Here was a pop star who, although being up there where he so rightly belonged, was only too happy to offer kind words of encouragement when the audience began turning nasty with impatience at the 'warm up' act.
In 1969 I again played support for Carl and the Move. This time they were in cabaret. It was a medium that Carl was obviously gunning for with such enthusiasm. He had tremendous foresight in his business dealings and could see the way Roy Wood's writing was developing. ELO was on the drawing board and the public were about to experience a more mature Carl Wayne. From the variety stage, the cabaret floor, children's television shows, West End musicals by way of Blood Brothers, to even to singing of the joys of teabags, Carl Wayne stamped his voice and presence on so many successful projects before more recently fronting the beautiful Hollies. It was a role that fitted his voice and persona so perfectly.
Imagine my feelings when, after the publication of my first book 'Brum Rocked', Carl called me and was full of praise for my efforts. Here he was offering to help in any way he could input wise to the follow up 'Brum Rocked On'. I could have walked on air.
Carl Wayne was back in Birmingham a couple of years ago for his ventures into radio presentation. I was honoured by the invitation to be his first interviewee but when I arrived at the Pebble Mill studios a political story had broken and Carl was expected to interview the cabinet minister Peter Hain live on air before my piece.
The thought of such an ordeal horrified me but Carl looked me square in the eyes and firmly said 'Never be scared of the microphone kid'.
Carl Wayne wasn't scared of the BBC microphone or any microphone. He embraced the challenge as he embraced every challenge. Carl was, without doubt, a superb interpreter of lyric and sold a song better than anyone you're likely to meet along the way. Add to that, Charlie Wayne was the most perfect of gentlemen. It was always a pleasure to be in his company.
Oh Carl, we were all fascinated by ya. Sure you set the place on fire. But when the lights across the street throw a rainbow you ain't gonna be there. Wherever you are dear friend, please rest easy in the knowledge that your talent and unselfish efforts brought happiness to so many people across the world.
Indeed the world is a much emptier place without you right now, but we've got your records! Yeah, and what a legacy you've left us with. Safe journey.
There's a letter still somewhere on a railroad line between here and San Diego.
With deepest sympathy to his widow Sue and son Jack.
With thanks to Laurie and Ugly Things magazine.