tribute by jane simpson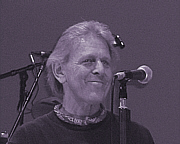 I first met Carl in 1975, quite by accident, whilst he was singing in summer season in Brighton. I had gone to see someone else and then just "fell in love" with Carl. He was so friendly, had such an infectious smile and quite frankly was just so lovely.
This was the beginning of a long and happy friendship. Happy moments - Cliftonville, whilst in Summer season with Jim Davidson - Carl came round to the rented holiday flat for supper with me and three friends, what a hoot! Didn't know he didn't like mushrooms and had cooked Spag Bog, he very carefully picked them all out! Even funnier was when he left, waving goodbye from the street, to us all hanging out of the second floor window - what must the neighbours have thought! Who cares! Being driven back to London from Margate, by Carl to catch a train from Victoria back to Croydon, time to talk in peace and quiet. Travelling to Liverpool on the coach to see "Emu in Pantoland", watching the show and travelling back by coach the same night!! Watching him sing at Aphrodites night club in Piccadilly, the day after having two wisdom teeth out and him coming up and cupping my face with his hands - ouch! Living and breathing "Emu in Pantoland" at the Shaftesbury Theatre, London, for weeks, being in the front row and heckling, being in the box and totally disrupting the show and laughing the whole evening - tapes to prove it! I think those few months must have been one of the best times. Following his TV appearances - Hi Summer in particular, videoing the shows (Where are they now when I need them?). Then going to surprise him in Blood Brothers and feeling very special afterwards backstage, when he saw me behind everyone else and was genuinely pleased to see me - I was eight months pregnant at the time.
Then there is a gap of eight/nine years, where family life took over and other personal problems and I didn't get to see Carl again until Guildford April 2003 - what a fantastic show, brought back a lot of memories and his voice always manages to turn me to jelly. Again afterwards hanging back at the stage door, he was shocked and surprised and very pleased to see me, or that is how it felt. He was telling everyone around that we went back a very long way as though proud of the fact. We (being Ian and I) managed to get front row seats for Southampton and in a way I was dreading the comments that could have been made, knowing how devilish Carl could be! He made one comment before the show and only Helen, Ian and I know that, but it didn't make me feel any more confident. However apart from a quick "hallo Jane", he was well behaved! Ian has not stopped talking about the fact that Carl remembered his name - very impressed he was and still is, having only met him the twice before. We then took our then 9 year old son Jack, to Basingstoke, to his first ever concert, to meet Carl. Jack was very impressed and enjoyed the show so much he was compelled to write a review for the site. He thought Carl was a great singer, and was stunned to be told of his death. We then saw Carl finally at Wisley, a good show, we met some wonderful new friends and I even had a chance to speak to Sue, showing her an old photo I had of her and Carl and I back in the 70's. These are just a few of the memories that I have and I wouldn't swap them for anything.
Carl - a truly wonderful performer and friend - it has been a great honour to have known you - hope that wherever you are now you can carry on being a wonderful performer and friend.
Missing you, love Jane. xxx