tribute by helen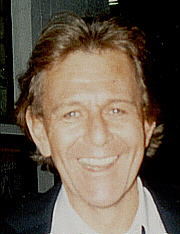 Dear Carl,
I am surprised that I am managing to sit here at such an early stage and put my thoughts and feelings about you and your recent passing down. I thought it would take me ages to find the courage and the will. But I slept far better than I have been lately last night. I've woken up feeling a little more rested and shed my first tears of the day. Every minute a million thoughts and memories of you race through my mind. This morning I seem to be thinking a little more lucidly, so it just seems like a good time to put some of those thoughts down. I hope you don't mind me sharing them with the world. It's just that I think it might help other people who knew and loved you as I did, or in whatever way, to see sides of you they recognise too, or perhaps never had the privilege to see. When I sat beside you and you wrote the first message in the guestbook on your new web site you said you were delighted because the site gives "an insight into a complex fellow". I hope this will too.
The first time I ever saw you in my life was as the Narrator in "Blood Brothers". 16th July, 1992. 16 years old, I went on the school trip to the show that would completely transform my life. The minute you walked on stage and I looked at you and heard you speak and sing, I knew. It is hard to describe the feeling. Like a million fireworks going off inside me, a feeling of recognition. Even though I hadn't, it was like I'd seen you somewhere before, I'd found you again after years of searching. Your performance in that show was just indescribable. Your stage presence was overwhelming and astounding. Your voice, whether you were speaking or singing, was totally unique, powerful, gave me the shivers.
I'm happy to say, that every single time I've seen you walk onto a stage and heard you sing since, that feeling has returned. The spark has never died and you never lost it, whatever "it" is. Some call it the "X-factor" – you cannot put your finger on exactly what "it" is, but as soon as someone walks in a room, or opens their mouth, you know they have "it". It is a god-given gift that few are blessed with and we are so lucky you chose to share yours with the world. We also have your dear mum, Dorothy, to thank. You never made any secret of the way she encouraged you by telling you to follow your heart.
I didn't know who you were at this point, had no idea of your amazing history and heritage; all I knew is that I had to find out everything about you and see you again. And I did; my research uncovered a band I'd never heard of from the 1960s called The Move, the employment of a record-finding service brought me dusty old vinyl singles you'd recorded in the '70s and '80s. Not always the greatest songs, but your voice. I started collecting, going to record fairs, spending my pocket money on anything I could find; you'd have thought I was crazy, told me to stop wasting my money. At the same time I was going to see Blood Brothers as regularly I could, employing which ever parent or friend I could persuade to accompany me.
It was over a year after first seeing you that I finally found the courage to go round to the stage door and meet you. Friend in tow, I stood there, a gangly, shy 17 year old, waiting for you to appear. When you did, you couldn't have been nicer. I couldn't say much. Just that I'd loved the show. You didn't say much either, just that you were pleased to see me, and signed the front of my programme.
In the years that followed you left Blood Brothers, returned and left again. We met many times at the stage door, becoming acquaintances. You let me have the phone number of the theatre so I could give you a call, met me for cups of coffee and chats in the café down the road. That was who you were; if someone showed an interest in you, you cared, made their day, let them near you. You were genuinely interested in return.
I followed you into cabaret up the road – "The Cockney" – the laughs and fun times we had there were so many and you continued to give me your time, have a drink with us, chat. We got to know each other a bit and I continued to enjoy your wonderful voice and showmanship.
I lost track of you for a year or so when you went to try a new project in America and again when you left the Cockney. Tough times, but I had university and then various other landmark events in my family and personal life to keep me occupied.
I found you again. You were still in cabaret, performing at a club called The Talk of London in the West End. Overjoyed, I took Rob Caiger with me one evening and we waited at the stage door for you to finish. You greeted us like old friends and we arranged to come and see you in the show. This was the beginning of something very important and special. Numerous visits to the club followed, all packed with fun, laughter, lots of wine, drunken antics from me and some incredible vocal performances from you. The three of us would sit for ages chewing the fat after the shows. We connected, found we were like-minded about many things, got on well together, had a laugh. You and Rob realised how much you had in common; not only as people who shared an interest in an area of musical history, but in your whole attitude towards life. Both obsessive and passionate about the industry, workaholics, ambitious about new projects, ideas and possibilities. Except it wasn't work to you, it was your life, what made you tick.
When you left the club, we all continued to meet together regularly. You and Rob talked, put things into place, often dreamt together, but also made wonderful things happen; CD compilations with sleeve notes by yourselves; interviews on the radio and press coverage; meetings and collaborations with The Shazam, the amazing young band from Tennessee who idolised you; your profile rose again. And so many wonderful times together, meeting as friends, talking, laughing, eating, drinking, sometimes meeting also with George who'd been your friend for years and becoming a close circle who were there for each other.
When you joined the Hollies it was exciting, full of promise. We'd never seen you front a rock band before. But you'd come full circle and gave the performances of your life. Like everything you did, you attacked it with energy, fervour, passion, ambition. Overwhelming for some people, I know. I don't think they knew what they had in store when they asked you. But that was you. Your time with the Hollies gave you the opportunity for you to shine, it was a brilliantly appropriate outlet for your talent, adoration of your profession and love of people. You brought out the best in every single person you ever worked with, in whatever capacity, but never more so than the other members of the Hollies. The fans said they had energy pumped into them, found a new lease of life, encouraged themselves to open up and give more on stage, embrace and showcase their own talents. Your enthusiasm was infectious. Hundreds of brilliant reviews, new fans and friends, conventions, tours around the world. Everywhere you went you bowled people over with your talent and energy and also with your warmth off stage. You'd talk to anyone for as long as they wanted to talk. Never short-tempered or rude to fans, you were more a Christian than many I've met who claim to be. You also brought hundreds of people together, whether they were meeting at the shows or on the various forums on the internet, long time fans or people discovering you for the first time. I hope you have some idea of what you achieved in that capacity as well as so many others.
I knew how nervous you were when you first had to step out in front of the fans of that legendary band and become their new front man. What a challenge. I don't think many could have pulled it off, but you did. You didn't replace Allan as the voice of the Hollies, you succeeded him as a brand new voice, winning the hearts of all those legions of fans, some of whom had been going to see the Hollies for FORTY years. What an achievement. There was never any comparison, you put your unique stamp on the band and their shows. They loved you. Has any other singer ever achieved what you did, fronting two of the most prestigious and influential bands ever, making such a difficult transition? I don't think so. I don't think it is a feat that will ever be repeated, either. That is something to be so proud of.
I've sketched out a very brief history of the past twelve years, the years I knew you. Many, many lucky people knew you on stage. And when they saw you up there, it is fair to say they did see something of the real you. Whether you were in cabaret, recording an advertising jingle, a session or on stage with a rock and roll band, you gave 100% of pure singing talent, vitality and showmanship. It didn't matter what had happened during the day or how tired you were. Your adoration of your profession, commitment and sheer dedication shone through. But, although quite a private man, you also gave so much of yourself, your personality, outrageous sense of humour and fun. What people often saw, was really what they got when they met you as a fan at the stage door or as a colleague for a drink after work.
I was privileged to know you in your capacity as a performer, but also as a close friend. We connected as two people and it was an honour. Creating the web site, helping you out with all kinds of things over the years, it all meant so much to me. To be fair, you were rarely out of the spotlight – it was where you wanted to be. Whether it was talking or singing at the top of your voice in the street. Doing your utmost to embarrass me in front of complete strangers. Making no secret of your outlandish sense of humour and fun, no matter where we were and often at our expense, always in great fun and jest. You said what you thought. A spade was a spade. Your smile and huge presence dominated and filled any room. It didn't matter whether it was a theatre, concert hall, restaurant or ice cream parlour. You were warm, magnetic, infectious and it was all anyone could do to be close to you.
At the same time, you knew when to be quiet, when to listen, mentor and advise. The incredible love, respect and pride you had for your family was always so apparent, you adored them. But you also looked after your friends, helped them, cared about them, gave them your precious time. The day my relationship broke up you were the person at the end of the phone and each day thereafter for months and months, checking I was alright, consoling me and helping me through. You did the same for him too. You never took sides, you were a friend to both of us, said what happened between us made no difference to how you saw us individually. I hope you know what that meant to me. I bothered you with small problems and trivialities and I am sorry for that, but I guess it's the way life is. You were my friend and I could tell you anything. I like to believe I was there for you in a different way with my support for your career, always there to listen and talk through your fears, frustrations and dilemmas. I know you appreciate everything I did. Our friendship was based on mutual respect, understanding and faith in each other. We encouraged each other, me your performing and singing, you my skills, for example, as a web designer, and my ability to do and try new things, reach my potential. I don't think we ever stopped telling each other we were brilliant, and we meant it. Our friendship was spiritual and unique. I'll not have another like it for as long as I live. You made everything right.
I don't know why you've been taken away from us so early. I feel like an enormous hole has been shot through my middle, something will always be missing, part of me has gone. But there is no point in asking questions when there are no answers. If there is anywhere at all to draw comfort it is in the fact that you did not let either the diagnosis of a serious illness or a major operation stop you from singing, for a good while afterwards. You fought it all the way, taking on a huge concert tour not long after surgery and whilst still undergoing treatment. That was so brave and strong. I promise you I'll never take another sickie from work. And the amazing thing is, you fooled everyone. The power, commitment and energy were all still there and you sang better than ever, delighting all those hundreds of people. You were so tired, but no one knew. All you wanted to do after the show was get straight into your car and drive home, but you didn't. You stayed afterwards, chatting with fans at stage doors, making their nights, letting them be close to you for just a few minutes. I know what those few minutes meant to them, they'll be remembered and cherished forever in the hearts of so many people.
You worked right up until the end, and still few people knew. One message on the guestbook draws comfort from the fact that you did not suffer a protracted illness, you shone brightly until the end and went quickly. I know what it would have meant if for any reason you had been left unable to sing and perform. It was more than just a job to you, it was your life. Singing was as natural to you as breathing. You'd have been devastated.
There is so much more to say. I'd never be able to get it all down on paper. This is long-winded enough! You've left so much here with us; I hope through the web site, as long as it's OK with Sue and Jack, I can keep you alive and that people around the world can continue to discover your unique talent. Your career was just phenomenal. So much variety, depth, and everything undertaken with such enthusiasm and care. A perfectionist and professional in every sense of the words. There is so much to remember, to be thankful for. I made so many other wonderful friends and acquaintances as a result of my friendship with you. I know those people will always be here for me and that you won't mind them reading this.
But I already miss you so much, in so many indescribable ways. Someone who was just as close to you says you're still our friend, we just can't talk to you or meet up with you any more. I hope so. I can't run this writing by you as normal, but I hope it's ok. You knew how I feel already, I hope, but it helps to express it in this way.
Back on the Spring Tour earlier this year, we travelled in your car between Truro and Bath. You were resting your voice, so we played one of my famous homemade compilation CDs. When Eva Cassidy's "Songbird" came on, you remarked how you'd love to have sung with her. I hope you can now. I hope you are in that better place everyone keeps talking about and that I see you again some day. I have to believe I will. You were always thanking me for everything. I hope through all I did over the last six years, you came to know what you mean to me. The words of that song of say it all:
For you, there'll be no crying
For you, the sun will be shining
'Cos I feel that when I'm with you
It's all right, I know it's right
And the songbirds keep singing like they know the score
And I love you, I love you, I love you
Like never before.
(Christine McVie)
Rest well. Thank you for everything.
All my love,
Helen x