tribute by hans rotenberry, the shazam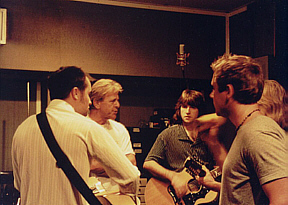 carl and the shazam rehearsing "beautiful daughter" may 2000
I'm still shocked by the news about Carl. I had no idea! Having the pleasure of knowing Carl, he was a picture of health, running all those marathons and stuff. He looked like he was in his early forties, and easily one of the most charming, easygoing people I've ever met.
I first met him in a pub on Leicester Square in 2000, and we just talked for hours. I was downing pint after pint and he somehow made a glass of wine last the entire evening! He told countless tales of The Move, and his encounters with so many other legends of English rock. The Shazam had just been invited to play at Abbey Road, live on TV and radio, so I just blurted out "Wow, why don't you and some of the other guys from The Move join us at Abbey Road and let's play some Move tunes - let's be The Move!" Oops.
But, not oops, because he said something like "hmmm" (and I can see him smiling now) and within a couple of days it was set up. Carl and Bev Bevan agreed to join us at Abbey Road on live television to play a Move song, at the end of our allotted set. When we came back to London a couple of months later, they had reserved a very cool studio with its own history for us to rehearse in. So we all sat around, rehearsing these tunes, and I would say, "What about Hello Susie"? and he kind of laughed, and I just started playing it, we all did, and he looked quite amused when that HUGE VOICE came booming out. Incredible, really. I thought I sang loud!
We were trying to pick "the" song to do, and I really wanted to do Beautiful Daughter, for one because it's a great song with a great Carl Wayne performance, but also because it was a great song to do in an "unplugged" format which was how the Abbey Road show was set up. He seemed to be unsure of doing it, y'know, "Hmmm, I don't know, it's got a lot of parts, and harmonies...etc." but we had rehearsed it beforehand, and we started on that one, he sang it, and we all just NAILED that harmony bit at the end. We said, "Wow, let's do it again," and he insisted that I sing the bridge part of the song, which was a great Carl Wayne moment on record. Ok lads, we'll do it, or something to that effect. We played a bunch of other Move songs that day in rehearsal, and I'll never forget it.
The next day at Abbey Road, they also made time for us to do I Can Hear The Grass Grow in the garden, but the rain made us do it in the cafeteria instead! I also met Paul Weller there that day, and the significance in this story is that I met Weller when he approached Carl for an autograph after we were done! Another funny thing that day was when Mick, our bass player, FELL ASLEEP on the couch in the penthouse studio at Abbey Road (we were using it as a rehearsal room), Carl walked in, saw him, and shook him awake shouting, "Get up, you @$#! , yer at Abbey Road Studios, you can't be sleeping!" We went on the air later, did Beautiful Daughter, and the recording is one of our proudest moments. Carl was so cool he even paid me a compliment on live TV, to which I think I replied, "Not so bad yerself, Carl!"
God Bless him.
Hans Rotenberry