express and star, wolverhampton, september 2nd 2004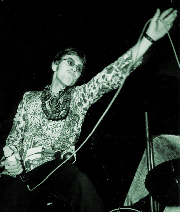 Wayne's world of pop charisma

It took a lot to match the charisma of Roy Wood, Ace Kefford and Trevor Burton in the front line of The Move, but Carl Wayne, who died yesterday at the age of 61, managed it with no trouble at all.
Seeing that band perform in their prime was one of the most thrilling rock 'n' roll experiences of the 1960s, and while the initially shy Roy Wood was the musical inspiration in the group, "Charlie" was its dynamic leader on stage.
He didn't need to smash up TVs to do it either, though he put an axe to many a set as the group brought their act to a conclusion - earning yet more extensive Press coverage. Stage presence alone made sure that once you'd seen him you'd never forget the experience, and he also had the vocal talents to cope with Wood's unusual and demanding songs.
For any rock fan in the Midlands, Carl Wayne's abiding memorial will be the vision of him, Roy, Ace and Trevor advancing as one from the rear of the stage (where the equally charismatic Bev Bevan reigned as drummer and bass vocalist) back to the microphones after an instrumental break from Roy, to renew the magnificent harmony vocals in which the band specialised.
All five were already big stars in the Midlands when they formed themselves into a supergroup, under the auspices of manager Tony Secunda. But they had to start all over again in tiny clubs such as Tettenhall Institute - though such places managed to get them only once, before they became national figures.
A lot of this was due to Secunda's ability to get them endless Press coverage, whether dressing them as 1920s gangsters or 1960s flower children (two more unforgettable images). But Carl, as front man, carried it off in muscular style, also acting as a forthright spokesman for the band.
Most famously he bore the brunt when Secunda, unbeknown to the band, circulated an obscene sketch of Prime Minister Harold Wilson and his personal secretary, to publicise their third single, Flowers In The Rain.
The stunt, greeted by instant legal action from Wilson, had shocked the entire band, but Carl trod the tricky line between apology and defiance in a manner which Wilson's diplomats must have admired.
The irony was that by then they didn't even need such publicity. Flowers In The Rain was chosen to launch the BBC's new venture, Radio 1, and they had already had two Top 10 hits with Night Of Fear and I Can Hear The Grass Grow.
Inevitably, in a band featuring five front men, tensions soon became apparent, and first Ace Kefford left the band, to be followed by Trevor Burton. Carl stayed long enough to see the band get their only No 1, Blackberry Way, at the beginning of 1969, but left after recording their next single, Curly.
It was a disappointment to me when he then went into cabaret, but he proved a pro through and through, never letting his new audiences down.
He married Crossroads icon "Miss Diane" - actress Sue Hanson - in 1974, and under her inspiration graduated to theatre, TV and film, returning to rock by joining The Hollies in the year 2000.
by john ogden