tribute by bruce brandt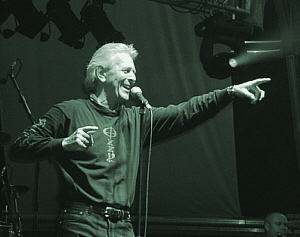 It was just under two years from the day I met Carl Wayne, July 28, 2002, until the last time I spoke to him on June 22, 2004.
Elaine Wayman knew Carl for 36 years. Jane Simpson first met him in the mid-70s. Martin Kinch, the man Carl once said "knows more about me than I do", just seems to have known him forever. And Helen, who was closer to him than any of us, met him as a teenager in the early 90s.
But I wouldn't change my (and eventually Beth's) own relatively short and unlikely friendship and experiences with Carl for any of theirs.
His untimely death two weeks ago was not part of the "script" I envisioned. On the other hand, nothing in the past two years has been a part of any script, if there is such a thing in this life, that I could have written at the beginning of April of 2002. A time when I was cruising through life, secure in the knowledge that I was never going to see my favorite band since the mid-1960s, The Hollies.
I don't want to reprise much from my various journals here, even though that will be impossible to avoid altogether, as they contain the story of how I got to know Carl. Most of you have read them anyway. The following will hopefully be a bit illustrative of the man I knew off the stage, rather than the performer too many people never had the good fortune to see.
In the first journal, I wrote how I yelled "Carl, Carl Wayne!" over at him when I saw him on stage for the first time at the sound check in Stillwater, Minnesota. What I didn't mention was that in a moment of silly inspiration, I added, "Helen says hello!" Now, I had first written to his website just days earlier, and had not even joined this mailing list. But a very nice woman had bothered answering my e-mail, and something told me two days later that she would not mind a greeting on her behalf. Knowing what I know today, Carl would have probably come down and talked to Terry Flamm and me anyway. As so many of you have seen for yourselves, that's just the way he was with the fans. No artificial walls between the performer and audience, no star complex. Just a regular guy who said at the time, "I like to figure out what makes people tick". He was genuinely curious about the varied folks that he crossed paths with, and that's why he became the band's beloved ambassador. Never saw, or heard of, him turn away from a single autograph-seeker, or fail to listen to a fan's story about seeing him in "Blood Brothers" or having been to a Hollies show years before he joined.
Yet, you could not miss the charisma he projected. And he was instantly likeable...
Another thing I soon realized about him was his loyalty to his friends, and the great pride he took in the website Helen ran. Of course, Carl had no idea that I really didn't know Helen at all, but clearly was NOT going to take any chance on offending someone who might just be a friend of hers, or a regular contributor to the site she administered to celebrate all aspects of his career! Another example of the durability of his friendships - when I called him a few weeks before last June's trip, I mentioned how much I had enjoyed "One of the Family", the biography about Wilf Pine, a former "minder" for The Move in the late '60s who later became involved with the American Mafia. More than 35 years beyond his days with The Move, Carl mentioned that Wilf had been over to his house just a few days before.
Another thing I didn't say in the first journal was that in that first e-mail to his site I had the audacity to offer, either after the show at Stillwater or the one at Kearney, Nebraska, to TAKE. THE. BAND. OUT. TO. DINNER. Then cringed at how presumptuous I was being after I sent it. "Riiiight - The Hollies are going to go out to dinner with you." In her reply, Helen very charitably (I thought) acknowledged my "nothing ventured, nothing gained" comment regarding the invitation, but said the band was already here in America and she had no way to pass along a message. No, I never did actually treat the Hollies to dinner. But nine days later, following the band's final American show at a casino in Connecticut, I found myself eating a late night dinner at the casino's upstairs grill with Carl, Coatesy and Ray, plus Rob and Ian from the crew. His graciousness and personal interest allowed me to expand my own horizons of what was possible, and that I might be on the verge of establishing a friendship of a different type than I had even considered before.
In the site's guestbook, Carl wrote that he was a Leo, "...I say what I think but I never mean any harm". Yet his candor that first day was stunning. I had asked him within the first five minutes of talking to him why we were not seeing any new recordings the from the band - was EMI or were the two senior Hollies to blame? I was astounded when he confided to Terry and me, "I'm planning to have a little talk with Tony and Bobby toward the end of the year; if we're not going to record then I've got some other things I want to do." Obviously his operation that fall derailed any plans he had in mind (apart from the Et Cetera collaborations). Carl had seen and done it all in his career - The Vikings, The Move, solo work, later collaborations with Roy, theater, panto, cabaret, television, radio, jingles...yet some subsequent conversations with him in our trips over to the UK made clear his continued frustration with the Hollies' failure to record, to progress. Toward the end, though, while I know he would have loved to see what a reunion of The Move could have accomplished, I think he had accepted where he was and what he was doing. More on that later. But his directness was always refreshing, if occasionally unnerving.
Not that you ever saw that frustration onstage on with The Hollies...because Carl LOVED the spotlight! And I never saw anything less than a 110 percent effort from him at the American shows I went to, or the UK and German shows Beth and I attended with Helen, and later, Peej. He appeared a bit tired before the Wisley show, but a week later in Heppenheim, Germany, the last time we saw him sing, he was his usual outrageous self - kissing Tony on the cheek, lewdly sticking the mic down his trousers, and I won't even get into that pose with the mic stand...
He worked when we were at play, and it was clear to see his only priority was to make sure we had FUN during our leisure time.
Carl himself acknowledged that he had availed himself of many different singing opportunities in his career, some unusual for a rock singer - and that it was more than just a case of "art for art's sake" or even for the sake of success. A few months ago, listening to an interview Martin had done with him years ago, he mentioned that had never followed the established steps of how you become a superstar. His first and foremost consideration in his career decisions was for the noblest of reasons. He simply noted that he "had a wife and young son to support" and said he had to think about them in deciding which singing jobs to take, as well as which ones to reject. I understood a lot more of why he did things the way he did after I heard that.
Carl could also take a compliment. When I flew to Boston during the American tour for the last two shows, I had regretted not being able to tell him after the Kearney, Nebraska show what I thought of his performance. Most fair-minded UK fans had come to accept Carl by that time, and had learned to appreciate the different approach than Allan Clarke he brought to the some Hollies classics they had heard dozens or even hundreds of times before. But this was his first time in the US, and he must have known that he would have to again sell himself to new audiences who knew the songs but not him. At the Cohasset sound check, I marched right up to Carl, grabbed him (gently) by the shoulders and told him that the best way I could describe the Nebraska show was that I had not even thought of Clarke until hours after the show - that he did that great a job. He was clearly moved, responded with a heartfelt "thank you" and told me how much he appreciated the support – "I really mean that". And it was clear he did.
I wrote everything up to this point last Friday, and then simply couldn't write anymore - it just took too much out of me emotionally. I tried writing the rest Sunday on an unfamiliar computer and ended up losing everything new I had written.
I mentioned how Helen continually had to caution us that it was difficult to get Carl to make firm plans with regard to getting together socially; how well she knew from personal experience that he tended to wait until the last minute to commit to anything! But I also wrote how he always showed up for whatever we had planned while we were in England or Germany and never once disappointed us. I wrote about that "rubbery", expressive face of his, and the great fun we had at dinner in Covent Garden one night when, back at our table, we mocked the behavior of some nearby diners we had just been over visiting with, using nothing but the expressions on our faces.
I wrote about how much his dedication of "The Air That I Breathe" to me meant when we saw The Hollies at Wisley this past June, with Carl knowing that I had lost my mother to a heart attack on the eve of our trip a few days earlier. How I had discovered just that afternoon from one of Elaine's scrapbooks that his mum was also named Dorothy.
And I noted how sad I am that friends like Beebs and Nathan will now never be able to see Carl perform.
I talked about how Beth eventually also became a friend and a fan of this amazing performer and person. After his operation in the fall of 2002, she had asked me if Carl might enjoy some "get well" cards from her first-grade students. I was stunned at the suggestion, and told her it was an absolutely brilliant idea, one I would never have thought of. It took a few days before she could actually make some room in the schedule, but one day she took one of Carl's CDs with her to school and the children produced their cards as only six year olds can while they listened to him sing some Andrew Lloyd Webber songs. The next day, I mailed the cards off to Carl, along with a cover note from Beth that described her class. I later found that when he received those get well wishes from the students, he had already handwritten a note for Helen to send to the mailing list and put on his website, thanking everyone for their cards and good wishes during his convalescence, and saying how much he was looking forward to performing again. He was so moved by the sweet sentiments of those students that he tore up the note he had just written and re-wrote it, simply to get a mention of Beth and those students in. He later sent us a thank you note that Beth read to her class, along with his Internet message, and asked how those children were doing for months afterward.
Beth did not meet Carl until the following summer (2003) when we saw the band perform in Germany, and she discovered for herself what had finally gotten me to cross the Atlantic - this highly talented singer and showman, this intriguing if unlikely friend. Things may never have been the same after that - I suspect Carl had already discovered who my "better half" was and just put up with me in order to spend time with her! Beth was so shocked at the news two weeks ago and continues to mourn his passing along with all of us, perhaps a little more than most. But I know she will always treasure the seven concerts she saw in the UK and Germany, our three trips over in one year to see him and the band, and the time she was able to spend getting to know him when we went to dinner or visited with him before a show. Not to mention those hugs and kisses she got from Carl - she loved those! And I believe she will always cherish the memory of some special holiday greetings by phone the past two Christmases, even as something will seem to be missing when Christmas 2004 has come and gone.
But mainly, I wrote about how Carl's greatest gift to us was the dear friendships we have formed with so many people as a result of getting to know him. How Helen has become a close and beloved friend in her own right and, I sincerely hope, will always remain so. How we have enjoyed meeting all of her family! How Peeji has become such a great traveling companion around England and over to Germany, and how her love for The Hollies is so delightful to see in someone her age. How I have come to rely on Beebs' wisdom and loving nature as much as she has come to depend on me, and the joy I have experienced over the past few months as she and Ruud have persevered over the many obstacles placed in their path and are now where they belong - together. How we so recently enjoyed Shari's hospitality and the chance to meet her family in Nebraska, and how it helped to spend a weekend with another great Hollies fan who could appreciate the pain I felt at a very difficult time for all of us. How much fun it was to surprise Jen in Connecticut last summer, see her perform at one of her coffeehouse gigs and meet her wonderful family. I am going to stop right there, with some of the people we have visited, because there so many others we have been fortunate to meet and I will forget someone. I hope you know who you are, anyway!
I know how Carl's death is affecting us, and I can't even comprehend what it is like for Sue, Jack, Helen, Rob Caiger, his long-time friend George and many other people I've never even heard of, who knew him far than Beth and I did.
The last time I saw Carl was when Helen, her brother Alex, Beth and I walked out of a pizzeria in Richmond, Surrey, where we had enjoyed dinner with him on our last night in the UK in June. As we left, I asked him a question, in the form of a statement, that had been on my mind for some time. In retrospect, it brought everything full circle to our first conversation thousands of miles away on a riverbank in Minnesota, nearly two years earlier. Keep in mind that I said what I did as a Hollies fan whose priorities had changed over the previous 23 months. I made the comment to him: "I'm kind of surprised you're still with these guys...". In the form of a question, Carl gave me an answer: "Well, what else am I going to do?" I had a few ideas about that, but kept them to myself. Had I known what was coming and I could revisit that moment, I would have replied with one word: "LIVE!"
But of course, he couldn't. His final marathon was ending, and he was about to cross the finish line.
But he WILL continue to live on, as long as I have those CDs, those photos, those notes, those personalized items, those valued friendships and those memories.
I have one other item. It is a cassette tape of an answering machine message he left for me in August of 2002, when he called a few days after returning to England from the American tour (we had gotten separated after dinner in the Connecticut casino). Only one or two people besides Beth have ever heard it. In closing, I want to share it with all of you:
"Bruciebaby? Carl here, Carl Wayne. Oh, you're obviously at work. It's six o'clock over here, God knows what time it is over there, probably around midday. Tonight before I go to bed, I just want to thank you for everything while I was there. Sorry I missed you...what happened was, when you went to drop off your camera, the boys moved off to a different end of the casino. I then came back looking for you, but I couldn't find you. I felt you had probably ducked out because you had to be at Boston early the next day, and had taken the short route out. Anyway, good to meet up with you, I'm grateful to you for all your help, it was a pleasure to meet you and I hope you'll stay in touch and I'll call you later. God bless, old boy!"
God bless YOU, "old boy". The pleasure was all mine.
Goodbye, and a good journey to you, my friend.
Bruce Brandt