Questions and Answers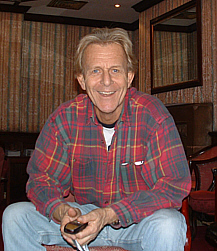 This round of questions and answers forms part of an article on Carl which appears in the latest issue of "The Beat Goes On and On" magazine. The questions were devised by Jo Rishton and it is with thanks to her that they are reproduced here.
When touring what is or has been your personal favourite venue and why?
The Symphony Hall Birmingham and Cliffs Pavilion Southend are particularly nice theatres, but each venue is special in its own way and has its own atmosphere. There is also a different sound in each theatre and a different feel, which makes each place individual. You might think that my hometown venue would be my favourite but it's not because it places more pressure upon you when so many people know you.
Have you had any embarrassing moments while on the road?
Although it wasn't my fault I fell off the stage at the Folkestone concert when the sound crew left a gap between the "on stage" sound desk and the edge of the stage which wasn't visible when the house lights were turned off. I fell down it but shot up again to continue with "I'm Alive" – how coincidental!
Do you ever get nervous before going on stage?
Rarely. As long as I'm in good voice and in control I'm fairly relaxed because I have every confidence in the programme we perform.
What are your favourite songs to play and why, and is it easy to choose a set list?
I don't choose the set lists; Bobby does. The songs really select themselves because they're all hits and the audience wants to hear them. It's not as easy as it seems to choose the right running order which needs to flow and build. I like "Yes I Will", "Blowin' in the Wind" and "Heavy" from a singing point of view but they're all enjoyable – as long as you don't have a sore throat!
What do you think of your fans?
I've always found fans interesting. They give you a lot of information you're not aware of. They also love The Hollies and want the best for the group and for it to continue. The fans have been very good to me since I took over from Allan. A fan of The Move, who came to see me in Blood Brothers, brought my attention to a recording I'd made and which had been released without my permission. As a result I was able to demand a fairly considerable sum of money so I always have time and respect for fans.
What's the best thing about being in The Hollies?
Great songs to sing, mostly hits, and therefore usually a very successful evening. The sound and lights are good, the members of the group are pleasant and talented and the shows are usually sold out and the response is great.
What's the worst thing about being in The Hollies?
Their failure to progress. They seem content to plod on and play the same songs and venues that they've been playing for so many years when we should be recording new material and playing bigger but fewer venues. They're nice blokes so I just enjoy the shows (which I think is fairly obvious) but I do find this aspect very frustrating.
When you're on stage what do you look for in the audience?
I always watch the audience very closely which gives me a feel of the level of their enjoyment. By observing them I generally find things I can use to put them at ease and keep them interested. You need to be able to control an audience, but that comes from experience. In fact, if an audience are enjoying themselves then they want you to control them and entertain them. Songs in themselves are not enough no matter how memorable they are.
Are you surprised at how young the audience is getting?
There are quite a few young people at our concerts. I think that's because they're either brought along by their parents, who are Hollies fans, or because of the amount of Hollies songs you hear on the radio and on TV adverts. 60s and 70s songs are very popular and it's easier to see The Hollies and groups like us because we play many concerts at smaller "local" venues so it's more convenient.
Describe a typical day in the life on the road as a touring band.
Singing the vast Hollies repertoire requires a lot of discipline so the main consideration is sleep. Two hours singing a night plus all the chat and the travelling is demanding and the voice is the weakest part of the body. I have to give a lot of thought to eating and sleep schedules in order to keep myself in shape and as we sound check at every show at 6pm and I don't sing on a full stomach that dictates when you need to eat. I try, whenever possible, to get to bed before midnight and to have a minimum of ten hours sleep. You need to plan your route to the next show, where to stay or whether to drive home, how much traffic there is, where the show is within the town or city in which we're working, parking facilities, your clothes for that show and so on. We're pretty lucky because we can usually wash or shower at the venues but it all needs working out and it's not easy at our age!
If you could describe The Hollies in the rock 'n' roll musical history books how would you word it?
One of the three most important British groups of the early 1960s (along with The Beatles and The Stones) who went on to record many successful records but did not really achieve their true potential following the departure of Graham Nash.
This article is copyright Carl Wayne Music and The Beat Goes On and On magazine. No part of it may be re-published or re-distributed without prior written permission.
Archive / Wayne's Words / Interactive