Questions and Answers Archive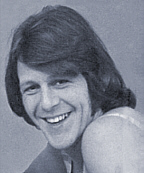 Session One
As an American, I was surprised to notice on your site a picture of you in a Los Angles Dodgers practice jersey - are you actually a fan of the Dodgers and do you follow American baseball, or was it just a case of wearing the jersey for no particular reason?
Doug Treible, USA
Iím afraid it was the latter. Iíve always thought about living in the USA and if ever I do I shall pay great attention to American Football and Baseball. I must confess I donít understand the rules so maybe one day we could go to a game together and you could explain!
In your two years with the Hollies what do you consider to be your biggest pleasant surprise and your biggest disappointment? Doug Treible, USA
This is difficult to answer, but it is a direct question and therefore deserves to be answered truthfully. Considering the success the Hollies achieved in the 60s and 70s Iím not certain that the way they operate is standard for a group with such a track record. Iím very disappointed that there has been no attempt to record new material with the current line-up.
Did you ever play on the same bill as the Hollies when you were in the Move, and what were the details of how you were asked to join The Hollies? Anthony Strelley, Australia
Once-on a bill with many other groups in Belgium.
I think Allan Clarke had been struggling with his voice for some years. At the same time his wife was taken ill with a serious illness and this was affecting Allan greatly. Obviously his main concern was his wife, but the group were touring at the time she became ill and Allan was unable to guarantee to appear. As he was clearly struggling vocally and worried about his wife he felt he couldnít continue.
Which songwriter's songs do you enjoy performing the most, and which song is your favorite? John DeSilva, San Jose, USA
I love anything with soul. I think Luther Vandross picks great songs. I also really like contemporary country music, in fact I love a very broad band of music styles. I think Burt Bacharach is one of the greatest songwriters, but there really are so many great songs to sing.
How does it feel - now - to leave a set at the end of a gig without having to smash it to pieces first ?! Robert Bird, West Sussex, UK
I often think about the Move stage show, and what is frightening is to think how much danger the audience were in with glass (from the televisions) flying everywhere. It would be difficult to get away with it now but Iíd love to do it again - only bigger!
Would you consider recording songs written by entirely unknown and sometimes non-professional writers (and I don't mean me)? Ruud Lodder, Haarlem, Holland
Yes. Some of the greatest songs ever written came from people rarely heard of. When you think how very few songs are recorded compared with how many are written, then there must be millions of great, unrecorded songs. Iíd like to hear anything youíve got.
Can I jam with you?! Glenn Shepherd, Manchester, UK
Anytime! Do you play and if so, what do you play? If I could turn the clock back I would learn to play piano. To be able to sit down and play for yourself opens up so many possibilities. It would be heaven.
Any plans to do a new CD release, say, along the lines of your debut solo album? Jeff Cooper, Cheltenham, UK
Iíd very much like to do another album from scratch and Iíd also like to do an entire Jeff Lynne tribute album by myself. I have another solo album which is unreleased, which was recorded with Heads, Hands and Feet. This may be released some time.
Do you remember putting marshmallows in Terry Wogan's mouth while Terry was singing ''The Floral Dance'' on his television show in (I think) 74-75? Also, any plans to come to Plymouth with The Hollies? Kaz, Plymouth, UK
Yes. I worked with Terry on lunchtime with Wogan. Great fun. I love Plymouth and Iíd like to come down and catch up with Ian Calvert, a DJ I know.
Having managed to survive nearly four decades of Rock 'n' Roll and the music business in general, what advice do you believe a would-be young artist needs to survive in this very competitive world? Carol Borrington, Nottingham, UK
You need to love what you are doing, be able to accept and deal with criticism and general unfairness and be aware of just how much talent you have and, of course, do not have. Know your limitations, be determined, but most of all, be true.
What made you work in the choir for Kylie Minogue, Mike Oldfield and Robbie Williams? You have probably worked like this for other artists too, but I havenít discovered the albums yet. Shaz, Plymouth, UK
I was employed as a session singer. I have done sessions for 27 years and to be perfectly honest I enjoy that area of the business more than any other.
Which of the Hollies songs you are now singing is the hardest to sing? Drew Jacobs, Latham, NY USA
The hardest thing about singing Hollies songs is the range. They are all great pop songs, but Allan Clarke and Graham Nash (in particular) recorded them in keys which stretch my range. None of them are really hard to sing. The most important thing is to blend with the others.
Do you still have your sheriffís badge? Elaine Wayman, Herts, UK
No. I donít know where that went but I remember wearing it on a brown leather coat.
I know The Hollies must keep you very busy but with all the interest in bands from the 60s and 70s would you ever consider doing a one off tour with the other Move members? Linda Janes, Maidstone, UK
Only with all of them but that will never happen. I speak regularly to Roy but he is not interested in reforming The Move. Iím fairly certain we could never recapture the magic of the early days so The Move is really best left alone.
I once read that you were writing two books, one called "Jumble" the other a novel about show business did you ever finish them and if so were they ever published? Linda Janes, Maidstone, UK
No. I do intend to start on a book in the near future-probably when I am touring and can give it my full attention. I donít particularly want to write a book about the music business as it has been done so many times, so I am looking for a different perspective.
Who would you say is the better band; The Move or The Hollies, and why? Helen, London, UK
The Move. Both were great groups in their original form, but The Move were unpredictable and exciting and also had the ability to cover so many other areas. I think the original Move with its stage act (and before the hits) was as good a band as you could ever wish to see.
How does working with rock bands like The Move and The Hollies compare with doing a West End production like "Blood Brothers"? BC, New York, USA
Although I enjoy being with The Hollies it is a tough gig because I am not the original singer and the rest of the band doesnít seem to want to record new material by the current line-up. I therefore cannot put my stamp on anything. I was able to make a role like The Narrator in ďBlood BrothersĒ entirely my own, which was great.
Are you still involved in any shows with Andrew Lloyd Webber songs? Christine, Adelaide, Australia
No. I think ALW writes brilliant songs, and I particularly like the songs in Sunset Boulevard, but to be completely truthful Iím not a singer for musicals. There are so many good singers in musicals-Peter Polycarpou, Michael Ball and Dave Willetts the best of all. I think my voice is more suited to contemporary country music Ė Lonestar, Alan Jackson, etc.
If you were invited to represent the world of popular music to our Martian friends, what group would you chose to do it with - pick your favourite musicians, the ones you could work with to achieve something, not some mythical super group. John Gillespie, Ilford, UK
Iíd want a great songwriter, so Jeff Lynne will do. A great drummer who is solid rather than ďbusyĒ, so Phil Collins who is also a tremendous singer would be a great asset. Trevor Burton is as good bass player as Iíve ever heard and a pretty good lead guitarist too. Albert Lee or Eric Clapton would be my choice of guitarists and Iíd probably use a keyboard player no-one has ever heard of except maybe London session musicians Ė Simon Chamberlain Ė as heís way ahead of anyone else Iíve heard. If that doesnít work out Iíll join the original Beatles!!
Session Two
Do you remember playing at the BRS club on Bromford Lane in Brum, would have been 1964/65? You gave me and my mate a lift to the gate Saltley. Georgina, UK
I remember the BRS Club well, because in many ways it was where I started or at least summoned the courage to get on stage. It was run by an agent named Reg Calvert and he held singing competitions each week. The prize for the winner was 10 shillings, a veritable fortune in those days, 50p these days, and I was lucky enough to win.
In my record-collection I have a Move-single called "Chinatown" b/w "Down on the bay". I didn't see it listed in the discography. Does this mean you were not participating with this project or was this single only issued in Holland? Or is there any other reason for it not to appear in the discography? Ruud Lodder, Haarlem, The Netherlands
"Chinatown" was a great Move record, probably my favourite, but it was recorded after I left The Move and Jeff Lynne joined. It was certainly released generally and was quite a big chart success.
When did you start to sing and realise that a career in the music industry was for you? How did you get started? Anthony Strelley, Australia
I started in the music business playing bass guitar but I was never any good. I managed to persuade one of the best Birmingham groups, The Vikings, to let me play bass with them when they needed a bass player and my one and only performance with that really good group was truly forgettable. I bowed out apologetically and recommended a friend for the job. Sometime later the regular singer in The Vikings, Keith Powell, wanted to take a break to see some relatives in Liverpool but the rest of the group wanted to carry on working while he was away so they decided to look for someone to stand in for him for two weeks. The bass player I recommended then suggested me as a good replacement to which the boys in the band said "I hope he can sing better than he plays bass!" When the regular singer came back it was decided to keep me as well and the band became Keith Powell, Carl Wayne and The Vikings. My influences were Elvis, Cliff, Eddie Cochrane and all the great American and British rock 'n' rollers.
What has been the highlight of your whole career and what has been the lowest point ? Linda Janes, Maidstone, UK
I have enjoyed all of my career because of the many varied things I've done - groups, theatre, session singingÖ.I'd have to say that the first Move hit would be the highlight because I'd been singing for a long time before joining The Move and a hit record was what every singer/group aimed for. Another highlight was playing the Narrator in "Blood Brothers". It's a great part and it was really a feather in my cap to be chosen. It was hard work - 8 shows a week, 6 days a week for 6 years, but the discipline was great for me. Willy Russell is a master writer and the reaction the play/musical was the same every night - a standing ovation.
What was it like playing the clubs of 1966-67 with Pink Floyd? You went on a tour to the States on a package thing with them and Hendrix, can you tell me what that was like? Paul, Australia
We first worked with Pink Floyd on a television show in Manchester before we had a hit record. We set the studio on fire and all hell broke loose and when the producer asked the two bands to appear together at the end of the show Pink Floyd refused on the basis that we didn't play real music. I think they were worried about what we might come up with next. We also played with them at a gig in Rome called "The Pallazio Del Sport" which was even more memorable, or maybe not for them. I slightly damaged a microphone stand on stage which incurred the wrath of the technicians who marched on stage and reprimanded The Move - a dreadful mistake. You really didn't reprimand Trevor Burton, Ace Kefford or me in those days.
What was it like working with Jeff Lynne and ELO on the three soon to be released songs, and were you pleased with their outcome originally? Shaz, Plymouth, UK
I've always wanted to work with Jeff because he's so talented, not only as a writer but as a producer, and also because his songs have so much depth. They allow you to express yourself. I've never really worked with Jeff and the three songs I recorded so many years ago were sort of a "gratuity" from Don Arden who managed both of us at the time. The one was used by ELO but I don't think the others were recorded as masters. Recently I recorded a very quick version of "Steppin' Out" with a friend, Allan Rogers, who played and recorded the track on which I sang. I'd love to do an album of Jeff's songs as I feel them and use some of the great session players I've been proud to work with over the years.
In 1969/1970 I saw the Move perform in Hyde Park in London, a free concert (after Ace had left, but with Trevor Burton on bass ) Can you confirm exactly when this was? Five or six years ago, I met Ace Kefford in Bradford, he played me some new songs on acoustic guitar, such as The Calling, has anything ever been released? Jim McCarthy, Sussex, England
The concert with The Stones was late 1960s and to be perfectly honest I don't remember too much about it. I can't even remember whether Ace was with us or not, but my feelings about the gradual break up of The Move are well documented and it began when Ace left. The Move was at its formidable best when the original line-up was together and for me it went gradually down hill from Ace's departure. For those who saw the original line-up in full flow then you saw something very special, but even though we made hits after the gradual break up we never recovered the brilliant stage act that we had when we first came to London to work at the Marquee Club. I remain in touch with Ace and he's a nice bloke who has survived enormous difficulties.
Of all the big names in the music industry during the '60s and '70s, who has been the person you were most in awe of meeting and why? Linda Janes, Maidstone, UK
I was never really in awe of people we worked with. I took them as they came and obviously admired their talent but there were special talents through the years; Jimmy Hendrix, Stevie Winwood, Eric Clapton. I don't think The Move were in awe of any other bands because it was such a bloody good band with a great stage act and hit records to go with it; although in all honesty I'm of the opinion that the type of hits we had undermined the band. But that's another story for another time, and in no way a criticism of Roy's songwriting talent.
When you look back, which is your favourite part of your career? And if you had it to do all over again, what would you do differently? Barb Clinton, Staffs, UK
I've always felt that I was meant to be a solo artiste and that my time in The Move and The Hollies are parts of my career. If I could turn back the clock I'd believe in myself more and be stronger about what I did and didn't record. Timing is everything in life and you have to remember that when I left The Move the biggest singers in the world were Elvis and Tom Jones and the major place to be was Las Vegas. My manager at that time wanted another Tom/Elvis in Vegas and I went along with that but, hand on heart, I never had Tom or Elvis's talent. I was effectively dead when I recorded my first single the abysmal "Maybe God's Got Something Up His Sleeve" - the title says it all !!!
You recently recorded a Jeff Lynne song (Stepping Out ) for a tribute album of Jeff's music. If there was a tribute album for the songs of Roy Wood, which song would you choose to record and why ? Martin Kinch, Bicester, UK
Roy's songs are unique and hard to interpret in your own style, whereas Jeff's songs leave more room for you to play around. What Roy wrote is very much what you have to sing and the original Move hits are the definitive versions as far as I'm concerned. That's why you rarely get cover versions of Roy's songs. I wouldn't, therefore, do an album of Roy's songs because they leave me nowhere to express myself. They're great as they are.
I've always wondered this: Carl, did you play any instruments on any of the Move recordings? I remember on the American "Best of the Move" album on A&M several tracks listed you as having played guitar and bass. Is it true, and which ones? John DeSilva, San Jose, California, USA
I've never played an instrument. I bought a bass when I first started, but never really learned to play it. I always knew I wanted to sing but it took me a little while to summon up the courage to front a band. If I'd learned to play anything I would have chosen piano because it would have been so valuable to me in the later stages of my career, but in the '60s piano was not a fashionable instrument; it was always three guitars and drums. These days piano or rather keyboard knowledge is invaluable not only for being part of a band but for studio work.
Of all the performers (past - sadly no longer with us) and present, would you most like(d) to have performed a duet and why? Sharon Taverner, Hayes, Middlesex, UK
There are so many great singers who are no longer with us - Elvis, Buddy, Eddie Cochrane, Gene Vincent etc and it would have been a dream to sing with any of them. I would have loved to have sung with Donny Hathaway or Marvin Gaye - dream on!
In the Roy Wood Video 'Under Fire' did you jump at the chance to wear stockings and suspenders, or did it take ages for you to be persuaded? Kaz Earl, Plymouth, UK
I know nothing about the Roy Wood video "Under Fire", but if I'd been in his band at the time it wouldn't have taken much persuading for me to dress up in suspenders and stockings - I've got great legs !!!!!
In 1969 Roy Wood produced two of his songs for two other bands, one being "Caroline" recorded by The Casuals the other being "Dance Around the Maypole" recorded by Acid Gallery. Do you remember why the Move never recorded these songs - they are both better songs than Curly. Andy Footman, UK
I think "Caroline" and "Maypole" were good songs, but I don't necessarily agree they were better songs than "Curly". The thing about Roy's songs is that each song is completely individual and different from the next which made Move releases so interesting. He just doesn't write to a formula which, of course, makes him unique. To be perfectly honest I can't remember Roy offering these two songs to The Move for recording.
Is there any other West End musical that you would like to perform in one day and if so, why? Carol Borrington, Nottingham, UK
I'd always perform in another West End musical if the right part came up but I'm not really a musical theatre singer. There are some fine singers in the West End and most of them have trained or semi-trained voices. My voice is what I was given and it suits certain songs but not others, so I have to be careful about what songs I sing. The Narrator was a great role and something else like that would be great - a little sinister, mysterious !!!
You have said your first 'real' band was the Vikings. It is said that the Vikings had two vocalists, you and Keith Powell. I have read that Keith Powell formed a band called Keith Powell and the Valets and some articles argue you were a member of the Valets when they recorded a single. Were you actually involved with the Valets? If so, was it after you joined the Vikings? Were the Valets a completely different group from the Vikings? It has also been said that you were once with a band called the Cheetahs and a band called the G-Men before the Vikings. Could you possibly list the bands you belonged to in chronological order? Toshiki Komeda, Kyoto, Japan
I first started in groups at school - Saltley Grammar School - in Birmingham and I had a band called the G-Men with my best friend Chris Wheeler and his brother Ralph. I later joined the Vikings as a stand-in for their singer who went away on holiday and when he came back I stayed with the group which became Keith Powell, Carl Wayne and The Vikings; unusual in those days to have two singers but quite clever managerially because it offered more variety to the group. Keith left The Vikings and formed a group called The Valets and made some great records. He was ahead of his time, a really good white soul singer, and he should have attained more success. There were a few other Carls in Birmingham groups in those days - Carl and The Cheetahs, Carl Fenn and The Mysteries.
From what I've read from different members of Helen's site, you really find time to talk and mix a little with your fans. Why do you think other so called stars seem to like to brush their fans aside? Do you ever have to tell people to leave you alone or do you find the fans understanding of your need for privacy? Anthony Strelley, Australia
Responding to fans is a personal issue and some well known people don't handle it well. I've always had time for fans and throughout my career I've always found them polite. If you're interested in the music business it's great to be able to speak to someone who can tell you all sorts of things which you wouldn't ordinarily hear. Fans are interesting because they see things from a different perspective. Fans generally listen to everything that's been recorded and very often they come up with great suggestions. However, it really is a very personal issue and while certain "celebs" are at ease with fans others aren't. I owe a great debt to a Move fan who came to see me in "Blood Brothers" and asked me to sign some Move records. He also had in his bag a record which had been released in Germany without my knowledge or permission and from which I ultimately received a fair amount of money.
Why don't The Hollies perform some of the Mikael Rickfors-era material like "The Baby" and "Magic Woman Touch"? I think those would be better suited to your vocal range. Have you heard the Hollies "Romany" LP? I saw the band in 1972 when they toured the States and they were stunning with Rickfors. Fred Cooper, Los Angeles, USA
When you've had as many hits as The Hollies you're virtually locked into what you have to play in your shows. I think the Romany album is terrific and I agree that Rickfors and I are similar singers. It's a shame I didn't join the band instead of him in 1972. The Romany album is very CSNY in feel and when I heard it I was left wondering where The Hollies might have gone had they followed that direction. I recently sat down and listened to 20 Hollies albums and I found it a very interesting listen. There are so many good songs that we could do, but when you're doing the kind of gigs The Hollies do you have little scope for new material although I'm hoping that the boys will include a few tracks I mentioned from those albums - we'll see!
What led to The Move being so influenced by the California rock sound in the late '60s, covering Moby Grape, Love and the Beach Boys live? I heard your version of "Hey Grandma" before I'd ever heard anything by the Grape. Did you ever meet any of these bands? It would be interesting to hear your comments on those records. David Coyle, USA
When The Move started we wanted to look for four part harmony vocals because everybody could sing and we didn't want to do English covers so we looked at the American West Coast bands - Byrds, Eagles, Todd Rungren, Moby Grape. Our stage act was made up of great material in those days and allowed all the singers in the band to express themselves - "Eight Miles High", "Rock 'n' Roll Star", "Hey Granma", "Stephanie Knows Who" - it was some band, I tell you, but we made a major mistake by not going to the States when we were in full flow and full of raw energy. Mind you, I think the Americans would have had a major problem with the stage act, especially when the axe, televisions and explosives kicked in.
Where did the nickname Charlie come from? Helen, London
I'm not certain where Charlie came from, but I like it. I think when I first went to Germany and said my name was Carl Wayne the Germans called me Charlie. I released a couple of records as Charlie Wayne. Having changed my name once by Deed Poll I'm not too inclined to change it again from Carl to Charlie, although one day in some future time I might change it again and become completely anonymous.
This article is copyright Carl Wayne Music and exclusive to www.carlwayne.co.uk and "Wayne's World". It cannot be re-published or re-distributed without prior written permission.