BBC Radio West Midlands,
January 2001
Interview with Roy Wood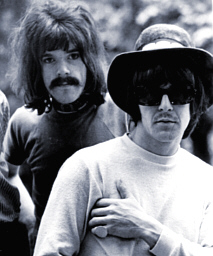 RW: My next guest is actually an old mate of mine. We used to sing together in a band called the Move quite a few years ago, nineteen-hundred-and-frozen-to-death, I think! For those of you that may have been asleep for the past twelve months, he's now lead vocalist with the Hollies. It's Carl Wayne. How's it going, mate?
CW: Hello my man, how you doing?
RW: Oh..alright! Bit early for me, this, not rock 'n' roll time, is it?
CW: It's brilliant. We played a few of those sacred places, didn't we, Old Hill Plaza...
RW: Oh blimey, yeah. Ma Regan.
CW: There was also John, Paul, George Ringo and Bert. Do you remember that? It was a play written by Willy Russell.
(laughter)
RW: Yeah, you're right, yeah. You're a dark horse...
CW: You didn't realise I was that old, did you?
RW: You recently played with the Hollies at the Grand Theatre in Wolverhampton and, by all accounts, went down a bit of a storm.
CW: It's sweet of you to say that. I'm sure you realise yourself that when you take over from somebody that's been in a band for that long and achieved so much it's almost a no-win situation.
RW: The thing is to put your own stamp on it, you can't ever replace someone else, can you, really?
CW: You can't, you just have to bring whatever you can to it, but at the same time try and retain what people know or perceive as being the Hollies which is the sound.
RW: That's right. For the listeners that aren't familiar with what you've been up to over the past few years. If anybody's watching TV and an advert comes on for Asda Price or something similar, you can guarantee it's probably Carl Wayne singing it. Tell us a bit about that.
CW: Well, I've always been aware of my own limitations.
RW: No, no, no! I know you better than that.
CW: I always thought Tom Jones and Presley were great singers, you were talking about them earlier. I've always been a guy with a voice who uses it to its best advantage. In the mid Seventies I recorded the theme music to "New Faces," the old TV programme. It was written by Tony McCaulay and he said my voice was very variable and malleable and that I'd be good in jingles. I asked him what it was about and that's when I started. My first advert was Martini with Chris Gunning.
RW: (sings) "Try a taste of Martini"
CW: What I did was because, hand on heart, they were quite well paid, and, as you know we never made much money in the Move, I kind of stuck with it. I geared everything else round it so I was able to go in the studios in London during the day and do vocals and voice-overs and go and do "Blood Brothers" at night.
RW: You're still very active in that, aren't you, in the jingles?
CW: Yeah, I am. I mean, like everything, Roy, the business moves on and youth comes and everybody's looking for something new all the time.
RW: That's a drag, isn't it? Not being young!
CW: Well, it's part of our life, you know. But I still do them, I still hang in there.
RW: Well, you're presently touring with the Hollies. What sort of a difference have you found with touring on a major scale these days compared to the original tours we did with the Move in the early days?
CW: I think in many ways it's a bit easier for me. Everybody asks me how I'm going to get on with the touring. Well, the last touring I did, in truth, was with the Move. In those days I think it was harder for us because, as you remember yourself, we travelled in a van together, we generally carried our own gear in and set it all up.
RW: Yeah.. the roadies who couldn't drive very well!
CW: With the Hollies and modern day touring it's basically done for you. The main concern, really, is that you've got to keep yourself in check with your health. As you know, being a singer yourself, the worrying thing is, you check your voice every time you get up the next morning.
RW: See if your head's still on!
CW: I don't know how you do it because you sing a lot higher than me.
RW: And I'm not as fit as you, either!
CW: (laughter) But a good singer!
RW: You've probably come across the same problem as me, whereby the audiences have always followed the Hollies and expect to hear the old songs.
CW: They do.
RW: We both know that after say thirty shows you get sick to death of singing the same old stuff. Do you actually think the Hollies could move on and be accepted for playing new material?
CW: Yeah, I genuinely believe they could. I believe we can and I believe you can. I think we have to pay respect, however. to the people who come and see us. They want to hear those hits because they're locked in nostalgia and every song reminds them of a period of their life. Marriage, divorce, childrens' birthdays. The great thing about this marriage, if I may put it that way, is that I'm actually singing with the Hollies and while trying to retain the Hollies sound it brings an interest to the audience to see a guy from the Move there.
RW: Yeah - I think you chuck a couple of Move songs in, don't you?
CW: We do. I didn't go in with that in mind, but the guys in the Hollies are absolutely crazy about the Move and great admirers of your own talent, which goes without saying.
RW: Bless you.
CW: We do a couple of Move things and they go down such a storm that we have now three, actually. We've got "Flowers in the Rain" and "Fire Brigade" and "Blackberry Way" which is kind of anthemic. I mean, they just go bananas.
RW: How nice. All get the football scarves out!
CW: I tell you what's great about it, I mean we were very similar in many ways, the way we worked together, to Nash and Clarke. You were the Graham Nash, the higher part, and I'm kind of hanging in there for dear life underneath. The sound of the Hollies singing, it's great, it's really interesting.
RW: It is, you can recognise it straight away, can't you?
CW: We both know the difficulty. I mean, the difference between you and me has always been that you were the provider of the material. You write the stuff and you can produce it. The difficulty you have with a group such as the Hollies is that we need people who write, and, as you know, I've contacted you with regard to that. But it's trying to persuade those who are currently controlling the market to produce you. Because they're very much into young bands which is understandable.
RW: I've asked everyone to choose a record that they fancy hearing on the radio. What would be your choice?
CW: Well, it's not sycophantic, but I think you and I have always been very fond of a track which is Paul Weller's favourite track, it's a great song you wrote. It was very Beatlesque, the early string quartet arrangement. It's a lovely song called "Beautiful Daughter".
RW: Great, we'll hear that.
CW: It's for your daughter!
Track: Beautiful Daughter
RW: Blimey! I'd forgotten all about that. Nice to hear that one again, isn't it?
CW: It was Holly's birthday, wasn't it?
RW: Oh yes, yesterday!
CW: Well, we'll do it for her.
RW: (sings) "Happy birthday to you!" Ok, while we're sharing the airwaves, so to speak, we always get rumours boiling up time to time about the reunion of the Move and all that, and a new album and stuff, what are your feelings about that?
CW: Well, it's a very tricky area, I mean the Move was the Move thirty years ago, and putting anything together thirty years later when you haven't worked in the interim is always a very difficult decision. There are obviously constant offers regarding the Move, both you and I have fortunately been busy enough with our own agenda not to have to bother with it. There always will be, Roy, I think we just have to accept that. It was a very respected band and there always will be offers and they're there, you listen to them and you move on.
RW: That's right, I mean that was then and now is now, really. We could never recreate the excitement we had then, I wouldn't have thought. To be perfectly honest, in my opinion, I don't think it would get out of the rehearsal room. Because I think we'd be bored of it within a couple of weeks.
CW: Probably a bit too close to it! I mean, the Who came back together recently and it's been very successful.
RW: I always thought that was a bit sad, really. They've been filling the gigs out and that sort of stuff, but it seems they're doing it for the money. I've never been that way and neither have you, really.
CW: It's like the Eagles, you know, the world famous story, they said they'd get back together when hell freezes over, the title of the album.
RW: Although you haven't actually lived in Birmingham for a long time you'll always be recognised as a Brummie, I suppose, won't you? What can the people listening today expect from Mr Carl Wayne? Any plans for a solo album?
CW: I don't know, I mean I love Birmingham, it was one of the sad parts of my life that I had to move on, but when I left the Move and you moved on into ELO and Wizzard, I had to then move on and earn a living for myself and subsequently my family, Sue and Jack. I travelled down to London and I've gained vast experience in various parts of the business ever since. I'd love to do an album of my own, I've done a couple which were pretty ordinary. But I'd love to do one because I think I've become more experienced as a singer.
RW: Yeah, your voice is your instrument, and, as far as I'm concerned, your voice has really improved over the years and you can't really fault it. But it's a lot more difficult for a singer to get noticed, rather than somebody that's fronting something new. A singer like yourself who's been around for years and had all that experience, it's a lot more difficult now, isn't it?
CW: It's very difficult. With respect, we are at an age where if somebody had said to you and I when we were kids together, "You'll still be performing at a fairly high level in your mid-fifties", we'd have said "Don't be so stupid!" So we're fortunate.
RW: Yeah. We've got the bus passes coming up soon, mate.
CW: I think the great thing, though, about the two of us, is that we both have a love for the business which will go on for years.
RW: Definitely.
CW: You have to be positive and of course there are negatives, but there's no point in dealing with the negatives, you have to look forward. It's like the Move situation, the Move situation you referred to earlier. There's always potential, a possibility that you and I would some time work together in some capacity. I don't think the Move comes into it.
RW: We know what we want and it's not that, is it really?
CW: It's something that happened a long time ago.
RW: Have you got any dates coming up for people to look out for, with the Hollies?
CW: Yeah, actually, we're in the Midlands. A week on Saturday we're at the Royal Spa Centre which is at Leamington Spa. Now, I haven't been to Leamington Spa for many years. Ace Kefford lives there, you know.
RW: Oh, right. Everybody's got to be somewhere.
CW: Then the night before we're in Cheltenham. We're then off to Australia and New Zealand on the 30th.
RW: Oh, nice one, great.
CW: The big one for us, really, will be at the Symphony Hall in Birmingham which I'm looking forward to.
RW: Oh, I should come along to that one.
CW: It would be great if you came along.
RW: So when's that going to be?
CW: That's March 20th.
RW: Ok, March 20th, everybody, the Hollies at the Birmingham Symphony Hall. All go.
CW: With Roy Wood!
RW: Possibly...
CW: Can I persuade you to come and sing?
RW: Possibly after a couple of beers!
CW: Only a couple!
RW: All the best for the tour, mate, and guess we might meet up soon for a beer or three, maybe.
CW: It's been many years, old chap, and I'm delighted to speak to you. All the best for the rest of the show.
RW: Cheers, mate.
CW: God bless.
press | radio | questions and answers | move press | wayne's words main menu