press
New role on the air for Carl
Birmingham Evening Mail, 29th June 2002
Birmingham singer Carl Wayne is turning his talents to broadcasting by taking Malcolm Boyden's place on Radio WM. Shard End-born Carl, lead singer with the Move, will be on air from noon to 2pm, next Tuesday to Friday, July 5, while Malcolm stars in the play Wallop Mrs. Cox at Birmingham Rep.
As a former member of The Move, Carl has used his extensive contacts list in the music industry to line-up some top guests. Scheduled to take part over the four days are Jeff Lynne of ELO fame, Roy Wood, Richard Tandy, Bev Bevan, Dave Morgan, Ace Kefford, Danny King and Don Gould of the Applejacks.
A Brum Beat theme will run through Carl's presenting stint as he is anxious to spotlight Birmingham's musical heritage.
On Friday he will lead a discussion on whether the city makes the most of the fact that so many top musicians are from Birmingham. "Worldwide, Birmingham musicians and artists are recognised and respected but where are the landmarks, the blue plaques, the tourist guides to Birmingham's music and important events?
"There are so many puzzled enquiries from fans of The Move and ELO, especially from Japan, Germany and America, who arrive in Birmingham and are baffled there is nothing to direct them around the City's musical history."
(c)2002 Birmingham Post and Mail Ltd.
Carl attended the press evening of "Wallop Mrs Cox" on 4 July and gave an excellent commentary and review on radio the next day, favourably comparing parts of the show to Blood Brothers, which he starred in for six years as The Narrator, a similar role now occupied by WM's Malcolm Boyden. Here is a review of the show.
WALLOP MRS COX, Birmingham Rep
Review by JOHN SLIM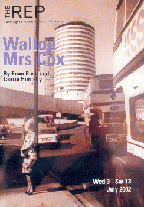 THIS is the musical that breathes its Brumminess. An imaginary family of Bull Ring traders is the thread on which Euan Rose and Laurie Hornsby have spun a story that exudes a city pride as it traces a city's memories through war and victory, its 1974 pub bombings, its industries and most of all its people - right up to the current redevelopment.
It is packed with heart and unpretentious humour, expressed in the script, the songs and John Adams' imaginative direction - all of which would be unavailing without the tremendous buzz of energy and talent emitted by an ad hoc company of about 50 amateurs.
John Clay comes magnificently to his role as preacher, while Radio's Malcolm Boyden never falters as the narrator. Beverley Edmunds has provided eye-catching choreography, Janet Bird's set evokes the rebirth of the Bull Ring, and the lively musical accompaniment is directed by Alan Warner. It runs until July 13.
(c)2002 Birmingham Post and Mail Ltd.
overview | guestlist | playlists | gallery | press | interviews