Carl Wayne on BBC Radio West Midlands, 2nd - 5th July 2002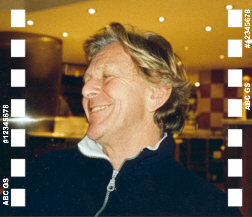 DJ Wayne is back On The Airwaves again!
Following a very successful DJ role in May, BBC Radio WM (95.6 FM) let Carl take over Malcolm Boyden's Sony Award-winning lunchtime show (12-2pm) from Tuesday 2 July through to Friday 5 July. This time, Carl had a whole week to play with, as Malcolm was busy starring in the new play "Wallop Mrs. Cox", premiering at Birminghamís Repertory Theatre.
The theme of the week was Midland Beat, with Carl interviewing a variety of special musical guests from his long career. Chris "Ace" Kefford and Trevor Burton reminisced with Carl about their time together in The Move, Dave Morgan and Richard Tandy recalled their pre-ELO days working with Carl at his publishing company Penny Music, Danny King took listeners back to the very early days of Midland Beat and Don Gould from The Applejacks talked about the experience of being the first Midland group to have a UK hit single. Other musical and non-musical guests included Lindsey Davis, Graham Gouldman, Colin Larkin and many more.
Throughout the week, co-producer Rob Caiger chatted about his forthcoming Midland Beat anthology project, inviting listeners to share their knowledge, tapes, experiences and memorabilia for inclusion in a forthcoming CD collection devoted to Midlandís musical heroes from the 50's, 60's and 70's. The CD will also tie-in with Laurie Hornsbyís popular and critically acclaimed Brum Rocked! book series, the second volume of which is due to be published in October 2002.
To read more about the shows, including full details of all guests and tracks played, please browse the main feature by clicking on the links below.
overview | guestlist | playlists | gallery | press | interviews