news archive
WHITE CHRISTMAS - OCTOBER 2003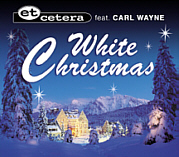 Carl's second single with Et Cetera is the wonderful Irving Berlin classic, "White Christmas". The release takes the shape of two CD singles which will be released in Germany, Switzerland and Austria in November. There has already been a great reaction from the four most important radio-stations in Germany and radio chart success is expected. Please click here for a full feature on the release.
SOLDIER'S SONG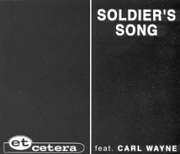 Carl has teamed up with Ulli Eichblatt and German pop project Et Cetera to record the much-loved "Soldier's Song" as a single. Click here for a full feature.
'YOU'RE A STAR' REACHES TOP TEN TELLY NUMBERS - SEPTEMBER 2003

Carl's legendary recording of "You're A Star" came tenth in a poll of the nation's favourite television themes last week. The poll was run by the Daily Express newspaper with the article appearing on Thursday 4th September. "You're A Star" was the theme to famed UK talent show New Faces which spawned stars such as Jim Davidson and Showaddywaddy. Click on the image above to see an enlarged version of the Top Ten featuring Carl.
BBC LONDON 94.9 FM - SATURDAY 30TH AUGUST 2003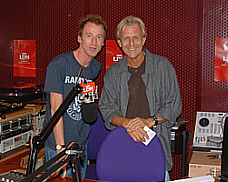 Carl undertook a great interview on 27th August with Gary Crowley of BBC Radio London (94.9FM). Carl was as frank, humorous and full of great stories as ever. His interview formed part of a two hour programme celebrating the Move, which was broadcast on BBC London on Saturday 30th August. Classic Move tracks were interspersed with chat, as well as one very special unreleased track. Carl and Gary last met in May 2000 when Carl took part in the BBC Music Live transmissions from Abbey Road Studios.
TWO FIFTHS OF THE ORIGINAL MOVE IN LEAMINGTON! - APRIL 2003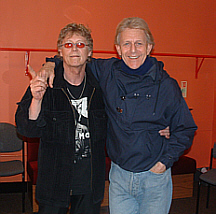 Wednesday 23rd April 2003 saw the Hollies give another fantastic concert in Leamington Spa with special guest Chris "Ace" Kefford in attendance. Carl's old friend and fellow founder member of the Move thoroughly enjoyed himself and was name-checked several times during the show with Carl singing "Blowin' In the Wind" and "I Can Hear the Grass Grow" for him. "Grass" was particularly rockin' on this occasion, the band obviously aware that the guy who played bass and supplied such great vocals on the original recording was watching.
HOLLIES GREATEST HITS CD TO GET RELEASE IN USA AND CANADA
The Hollies Greatest Hits CD will be released in Canada on April 22nd 2003 and America on 26th May 2003.
CARL WAYNE FEATURED ON ELECTRIC LIGHT ORCHESTRA'S ELO 2 RE-MASTER - 31 MARCH 2003
31st March 2003 was the confirmed UK-only release date of the eagerly awaited re-mastered and expanded ELO 2. Initially released as a 2 CD slip-cased limited edition, ELO's second album will be full of rare and previously unreleased material, including a three-song session ELO recorded with Carl Wayne as lead singer. Please click here for more details.
HOLLIES GREATEST HITS CD - 24th MARCH 2003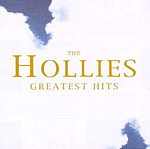 24th March 2003 saw the EMI release of a new Hollies Greatest Hits CD. The album celebrates the 40th Anniversary of the band and includes the long-awaited new track "How Do I Survive" with Carl on lead vocals.
CARL ON NATIONAL RADIO - SCHEDULE UPDATED
Carl is undertaking more BBC radio interviews on Monday 12th May 2003 to coincide with the current Hollies tour and recent Greatest Hits release. Please click here for updated schedule and details.
CARL AND THE HOLLIES IN BIRMINGHAM - 21ST MARCH 2003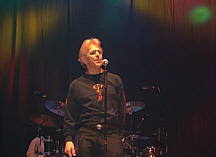 Carl's homecoming show at Birmingham's Symphony Hall on Friday night was once again an amazing success, with the Hollies taking the venue by storm as only they can. The show was as packed with energy, fun and incredible musicianship as ever and had the capacity crowd dancing in the aisles, on the balconies and raising the roof with their cheering and applause. Special guests included Richard Tandy of ELO fame and Tony and Julie Wadsworth from BBC Radio WM. Carl also enjoyed a reunion with some of his former classmates from Saltley Grammar School. Click here to read some reviews and see some photos of Carl's very special night.
HOLLIES - FEBRUARY 2003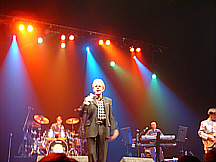 The UK leg of the Hollies 2003 tour has got off to amazing start over the last few days with the boys delighting packed audiences all over the country. Reviews are being updated as we go, please click here to read them. Watch this space for more news and photos from the shows, alternatively join our mailing list
HAPPY NEW YEAR 2003

Carl and his team would like to wish all website visitors and "Wayne's World" subscribers a very Happy 2003. Carl is looking forward to reuniting full-time with The Hollies in February 2003 and cannot wait to get back on stage for what promises to be a very special tour.
CARL ON STAGE WITH WOODY - 21ST DECEMBER 2002
Roy Wood's Army performed on Saturday night (December 21st) at Covent Garden's Roadhouse Club. Carl attended and ended up on stage with Roy singing classic Move songs "Fire Brigade", "Flowers In The Rain" and "I Can Hear The Grass Grow". Such was the crowd's enthusiastic response, he also supplied vocals on "Blackberry Way" and the seasonal encore of "I Wish It Could Be Christmas Everyday". As this was Carl's first live appearance since his operation, it was kept deliberately low-key and unannounced. Carl was in fine voice and looked and performed exceptionally well - the audience loved it, as did Roy and his band!
QUESTIONS 'N' ANSWERS - DECEMBER 2002

Carl has just finished answering the latest round of questions to be submitted by fans. Click here to read them and submit your own question for the next round.
BBC RADIO WM INTERVIEWS UPDATED

The interviews Carl conducted on BBC Radio WM back in July are currently being transcribed and are appearing here one by one. The latest to be added is Graham Gouldman talking exclusively about The Hollies.
MESSAGE FROM CARL - 8TH NOVEMBER 2002
Please click here to read an exclusive thank-you letter from Carl, dedicated to all the friends and fans who have shown love and support by sending cards and letters over the last few weeks.
PROGRESS REPORT - 22ND OCTOBER 2002

Carl would like to let everyone know that his operation was a complete success and he is now out of intensive care, focusing on his recovery and regaining his strength. Carl would also like to thank everyone for their kind wishes, cards and messages of support and looks forward more than ever to seeing you all during The Hollies rescheduled tour in 2003.


MOVE CATALOGUE REVAMP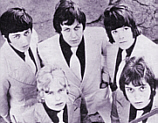 The planned major overhaul of The Move's catalogue was postponed due to Carl's recent operation and planned recovery period. Watch this space and the mailing list for further decisions and announcements.
THE HOLLIES POSTPONE AUTUMN TOUR WHILE LEAD SINGER CARL WAYNE UNDERGOES OPERATION
- 10TH OCTOBER 2002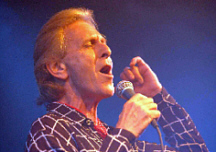 The Hollies have today announced the postponement of their forthcoming Autumn Tour due to lead singer Carl Wayne having to undergo an urgent operation to remove an oesophageal blockage. Discovered recently, the blockage has prevented Carl from eating properly and doctors have advised operating without delay:
"A month after returning from our recent American tour, I experienced difficulty swallowing. I had various tests and it was discovered that I had an oesophageal blockage, which doctors have stressed needs operating on immediately. Sadly, this has meant I will be unavailable for the forthcoming tour and all my other commitments while I recover. This is a huge disappointment but I have been told I need to make a full recovery before I can resume my career and return for the rescheduled tour in the New Year. I look forward to seeing you all on tour during 2003."
Carl has postponed all commitments until 2003 and further information and any updates will posted to Carl's official website (contact Helen Macdonald at email info@carlwayne.co.uk). Rescheduled concert dates will also be posted to The Hollies official website www.hollies.co.uk.
Carl's next appearance on record will be as a special guest on EMI's forthcoming remastered edition of Electric Light Orchestra's "ELO 2" album. Three songs, recorded by ELO with Carl on lead vocals during 1973, were recently discovered in EMI's archives and will be released on 3 March 2003.
BBC WORLDWIDE AWARDS CEREMONY - 22ND JULY 2002
On Monday 22nd July, Carl took part in a BBC Worldwide event at Kensington Roof Gardens, London. The ceremony was held in order to acknowledge the Ivor Novello Award won by acclaimed film music composer George Fenton, for his work on The Blue Planet.
Carl performed the Charles Trenet classic "La Mer" (with lyrics all in french!) along with 8 other fine musicians, in front of an invited audience. The performance went exceptionally well, and all in all the evening was very successful and enjoyable.
BBC RADIO WEST MIDLANDS - JULY 2002

Carl was a guest DJ on BBC Radio West Midlands (96.5 FM) for four days (Tuesday 2 July through to Friday 5 July 2002) standing in for Sony award winning DJ Malcolm Boyden. The week was a great success, enjoyed by listeners, guests and the BBC alike. Guests over the four days included Chris "Ace" Kefford, Trevor Burton, Richard Tandy, Dave Morgan, Danny King, Graham Gouldman, Don Gould of The Applejacks, Dave Dee and many more. This may lead to more BBC radio appearances for Carl but in the meantime please click here for a full report of DJ Wayne's week in the studio, including Webmistress Helen's own takes on her two days in the studio with Carl!
LONDON MARATHON - APRIL 2002
On Sunday 14th April 2002 Carl successfully completed yet another London Marathon in an official time of 3:37:17, coming 6,157th out of 32,000 runners! He is pictured here after the event with BBC Radio WM presenter Tony Wadsworth who also completed the run successfully.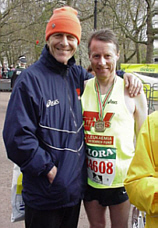 STRANGE DAYS - MARCH 2002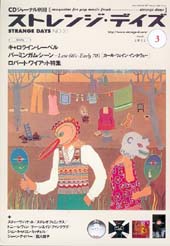 Back in January 2002 Carl was interviewed by Japanese music magazine Strange Days. The interview appears in the March 2002 edition of the magazine forming part of a full feature on the Birmingham music scene of the 60s and 70s. Click here for a translation of the interview.
LYNNE ME YOUR EARS - FEBRUARY 2002

Carl has recorded an outstanding version of Jeff Lynne's classic track "Steppin' Out". This appears on a Lynne tribute album entitled "Lynne Me Your Ears" Click here for a full feature including an interview with Carl.
SOLO ALBUM CD RE-MASTER - DECEMBER 2001

At long last, Carl's solo album has been released on re-mastered CD by BMG Japan. Click here for a full report on the original release, including a rare interview, reviews and memorabilia.
BIRMINGHAM SYMPHONY HALL - 20TH MARCH 2001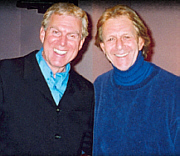 Carl's homecoming concert at Birmingham Symphony Hall on 20th March was a wonderful, memorable success. The atmosphere was electric as the near-capacity audience full of Carl's friends old and new, enjoyed another terrific show from the Hollies. Fellow Brummie West End Star, Dave Willetts, famous for playing the title role in The Phantom of the Opera was in attendance, and is pictured above with Carl after the event.
ACE KEFFORD - JANUARY 2001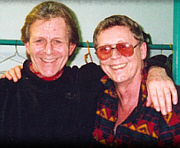 You go to see The Hollies at Leamington Spa (great gig by the way) and who do you find sitting in Carl Wayne's dressing room? His old partner in crime from The Move and the man responsible for THAT bass sound - Chris "Ace" Kefford.

Chris's past has been well documented and I'm not going to cover it here, but suffice to say, his fight back and his determination to overcome his illnesses has been nothing short of remarkable.

It was a real pleasure to have a chat with Chris - he talked openly about his past and more importantly, about the future.

When he and Carl got together after sound check, it was like watching two teenagers. The years fell off as they fell about laughing, particularly over one escapade during a train journey to a Move recording session. Apparently, a very snobby bloke had wound them both up, so while he disappeared behind his large Times newspaper, they crept up and lit the bottom of it. As the flames gradually burnt upwards, the guy realised what was happening by letting out a loud scream. Both Move arsonists quickly ran!

Throughout the gig, Carl gave generous dedications to Ace before the two Move numbers. Ace thoroughly enjoyed the whole concert, singing along to the early Hollies hits and pointed out that in The Move days, towards the end of the set, he would be the one to wind Carl up so the axe work would be as realistic as possible. That would have been interesting to have seen tonight.....

A few years back, Chris recorded some fine songs at Fairport Conventions' studios. He is now writing again and feels his new work is even better. There's a lot of people and long-time Move fans that all look forward to hearing these songs and hopefully one day, to seeing Chris performing his music on stage.
SUMMER SIXTIES 2000, BRIGHTON - AUGUST 2000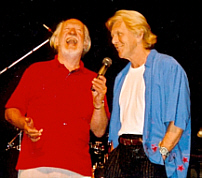 On 20th August 2000, Carl made an appearance at the Summer Sixties 2000 Festival at the Brighton Centre. He was interviewed on stage by the legendary Brian Matthews (above) and later by Lee Williams of Music Choice. The Music Choice interview will go out on Sky Digital on channel 864 (Old Gold) and other digital networks across Europe, Scandinavia, the Middle East and Israel as well as the Internet.
THE HOLLIES, CHRISTCHURCH PARK, IPSWICH - JULY 2000
On Saturday 29th July 2000 Carl played his first public UK concert with The Hollies. The concert was a great success, and photos and a review can be found here
THE SHAZAM, UPSTAIRS AT THE GARAGE, ISLINGTON - 31ST MAY 2000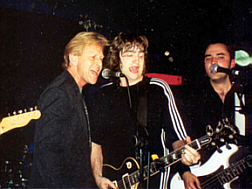 On Wednesday 31st of May 2000, new American band The Shazam played a packed Upstairs at the Garage in Islington. Following the success of their acoustic performance at Abbey Road Studios, Carl leapt on stage for the encore, a storming electric version of "I Can Hear the Grass Grow". Energetic, breathtaking performances were given by all to the delight of the audience who went WILD!!
BBC MUSIC LIVE, ABBEY ROAD - 29TH MAY 2000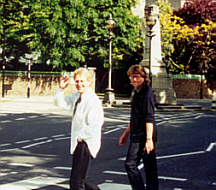 On Monday 29th of May 2000, Carl took part in BBC Music Live. The day's events were broadcast live from Abbey Road Studios, both on television and 94.9 BBC London Live. At approximately 3.25 pm Carl Wayne and Bev Bevan joined The Shazam for a acoustic rendition of "I Can Hear the Grass Grow" This was broadcast live on BBC1 television.
At 8pm there followed a live radio set for BBC London Live. The Shazam played three originals and were then joined by Carl and Bev for an amazing version of "Beautiful Daughter."
Finally, at 10pm, Carl joined a cast of hundreds for the finale, a rendition of Lou Reed's "Perfect Day" which involved collaboration from artists worldwide. This too was broadcast live on BBC1.
A truly great time was had by all!