dave dee - 2nd july 2002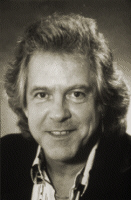 Carl Wayne: A former police cadet, pop star, and now fighting the most admirable battle in his career against prostate cancer, my mate Dave Dee joins me in a few minutes.
Track: "Hold on Tight" - Dave Dee, Dozy, Beaky, Mick & Tich
Dave, I thought you were singing "Oh, Diane!" in there, could have been a song for my wife! How are you?
Dave Dee: You don't half play some rubbish on your radio show!
CW: I'll tell you, my admiration for you is just unbelievable. Working with you in Germany over the weekend was just….I don't know what to say.
DD: Average, you mean?!
CW: No, as a performer you have always been one of the best in the business, but your resolve and strength of character to go out and do what you're doing while you're fighting this dreadful disease is amazing. Let me just take you back, Dave, you're originally from Salisbury where you formed the band, and now of course you're a magistrate up in the Manchester area.
DD: Well, I was a magistrate in London, but I moved out of London six years ago now and then transferred to the bench up here.
CW: I know that you think everyone knows this, but just tell our listeners, that probably don't know, the story about you and Eddie Cochran. Were you on the scene when he was killed?
DD: I wasn't on the scene, no. I was a police cadet and we used to live on single men's quarters. What the policemen used to do if there was anything going on, to give us experience, was take us to the scene of accidents and so on. We used to live above the police station. One of the coppers told us there had been an accident and said "Do you want to come?" So I went to this accident with the PC and a taxi had whacked a lamp post. There were four people in the car; the driver, a lady, and two gentlemen. I didn't realise who they were to start with, but I knew they were musicians because there were guitars all over the place. It turned out that the worst injured person was Eddie Cochran. The lady in the front was his girlfriend, the other guy in the back was Gene Vincent, and the other chap was the taxi driver. I don't think anyone really knew what happened, whether the driver fell asleep or had a burst tyre, there was no-one else involved at all.
CW: Gene Vincent survived though, didn't he?
DD: Gene Vincent survived, I mean the irony of it all is that I was with Gene Vincent the week he died as well. I was working in Liverpool in a club called the Shakespeare.
CW: I know it well.
DD: He was working in the "Wooky Hollow" and they paid him off after the first night. Unfortunately he eventually went back to America, walked into his house and his wife had left him, taken the kids, taken the furniture, taken everything else. He had a duodenal ulcer; it burst and within two days he was dead.
CW: Amazing man. I worked with him a few times, and he was a real, real character. You and I know the stories.
DD: Rock 'n' Roll! You hear lots of stories about people in rock 'n' roll now, but I don't think any of them have a patch on Gene Vincent.
CW: So you didn't realise it was Eddie Cochran at the time, were you into music at that time, Dave?
DD: Oh yeah! I'd been playing in bands and skiffle groups and everything else for years at school and so on. We had Eddie Cochran's guitar at the police station for a month or six weeks until the family took it all back. I did have a strum on it, I must confess.
CW: So tell me about when you met up with Dozy, Beaky, Mick and Tich and the success.
DD: I left the police force slightly disillusioned and went back to Salisbury. Within two weeks I joined a band called "Ronnie Blond and the Beatniks" of which Tich and Dozy were members. I had a better amp than the other rhythm guitarist, so he got slung out and I got the gig! One night this Ronnie Blond didn't turn up and we were playing in a village hall near Bournemouth, and it was full. We decided that we'd split the songs up between us and whoever knew the most lyrics to a song would sing it. So, I ended up doing most of the vocals that night and it went down so well that we just decided we weren't going to have him back. So, I became the lead singer and that's when we called ourselves "Dave Dee and the Bostons". I said that I couldn't play the guitar and sing, so that's when we got another guitarist, Beaky, in. At the time we had a drummer who was married with two kids. Obviously we weren't earning that much money, we went to Hamburg and did all the usual bits. There was never enough money in it to keep a married man and a family going, so eventually he decided to leave and that's when we got Mick Wilson in. So that was the five of us complete. We were enormous on the club circuit, but we couldn't get a record deal, I think possibly because we were more visual than musical at the time. Eventually we met Howard and Blakely. They saw our show, loved it, and said they could get us a recording contract. We went to visit them in London when we were working there and they got us a contract first of all with Joe Meek. We didn't get on with him very well at all though, we travelled all the way up from Salisbury and he threw us out of his studio after about half an hour and told to go home! That was the end of our recording career with Joe Meek; he had all these wonderful ways of recording. He used to make you play the songs at half speed.
CW: Yeah, he used to record on the stairs, and all that business?
DD: There was no way we could play at half speed! It was an up-tempo song. He told us that was how he got his sound, and we told him we couldn't play like that! He just threw a tantrum and that was the end of it.
CW: Didn't he shoot his landlady?
DD: Yeah, his studio was above a leather shop, he had two floors above it. I think he was a manic depressive anyway, and one day decided to end it all and went down and shot her first.
CW: Oh dear! Dave, you and I have just come back, we've been working together in Berlin. People over here wouldn't believe, would they, that gentlemen of our age could work to 25-26,000 people a night?
DD: Yes, it's quite special. I've been doing these sort of gigs for quite a few years, actually, and it never ceases to amaze me where all these people come from. That particular show in Berlin that you did with us at the weekend, I've done about five times now. I probably do it every couple of years and it's always sold out. You get two nights of around 20,000 people a night and you play other places in Germany and it's the same. Not that nostalgia is bigger over there, just that they present it in a different way. You can do package tours over here in theatres, and the odd weekend at Butlins, but I think that's about all there is here for the old farts!
CW: They really have a good time in Germany though, don't they?
DD: Oh, brilliant, the audience are part of the show, to be honest.
CW: They are.
DD: You probably noticed that every time you stopped singing, or the band stopped singing, the audience just carried on!
CW: Yes, you lean on them, it's a real trick of the trade, let them do the work!
DD: They come out to have a good time. That show, if you think about it, started at 6pm and the last band finished at 11pm. The audience stayed the whole time, having a party.
CW: Tell me about Nordoff-Robbins. I know you've been a director of that charity for many years – musical therapy.
DD: Well, I've been on the fund-raising committee for about twenty eight years now, and it is therapy through music for mentally and physically disabled children. We also work with adults, because music can work on anyone, really, to be honest.
CW: A bit like Chicken Shack?
DD: Slightly different; a lot of the people we get aren't as able as a lot of the kids that go to Chicken Shack. A lot of them are capable of very little. But we can reach them through music, and if you can add a little something to the life that they have, which is hardly a life compared to the lives that we lead, it's mega. It is the same with autistic children. We've had so many people come to us where they've been everywhere else, they sometimes have a violent child; a lot of autistic children are violent, basically because they are so frustrated. Often they look normal and are able to move around and do things, but they can't communicate and can't get outside of the little world that they live in. They get frustrated by that and many of them get violent towards their parents. We've had people bring autistic children to the Nordoff-Robbins centre in London as a last resort as they've tried everything else, and the results have been quite staggering. It is a very worthwhile charity. Everyone knows that if you're in a bad mood music can cheer you up sometimes, but they use it as a means of communication to open doors with most of these disabled people, whatever their disability is.
CW: You told me when we were away at the weekend that cancer, which I want to refer to very briefly, is something you don't get, it's always someone else who gets it. Tell me Dave, without labouring it, because your fight against this is just extraordinary - to perform with this disease is just remarkable to me, makes me feel very humble - just tell our listeners the importance of having regular check-ups, especially on the prostate.
DD: Yes, cancer doesn't give you any warnings, unfortunately. I just went for a medical, one of these "well men" clinic medicals, and only because my wife cut some coupons out of the Daily Mail and you could send them off and get one of these medicals for half-price! So, I toddled off to this hospital in Chester, and they picked up that my PSA level was high, which is a way of telling you that there might be something wrong. So I
went for a biopsy, and there it was, the old "Big C" in the prostate. But it was nice and early, so they told me they had a very good chance of sorting me out. My message to any man over 50 or 60, even over 40 now, is just do yourself a favour, speak to your GP, and get a PSA test, it is just a blood test. It's not deadly accurate, but what it does do is give them an indication and make them investigate a bit further. The great thing is that they know enough about it now, that if they do pick it up early they can cure you. That's my message really; the government should do more about it. If you're at all worried, or even if you're not worried, do yourself a favour, it'll cost you absolutely nothing except half an hour of your time.
CW: Dave, you are a man amongst men. I have the greatest admiration for you, especially to take the time today, because I know you're not well and it's a struggle to talk to us here on Radio WM in the West Midlands. Myself and all the people listening to this programme wish you the strength to get over this.
DD: Don't worry, Charlie, I am off to get some real strength now, a pint in the pub at lunchtime! (laughter)
CW: I live in the memory of you at the NME Poll Winner's Party concert, cracking that whip, "All the kinky ones up the front!!" See you Dave, this is "The Legend of Xanadu".
DD: That'll be on my tombstone, "You're the one with the whip!!" (laughter from both)
Track: "The Legend of Xanadu" - Dave Dee, Dozy, Beaky, Micky & Tich.
Transcribed by Helen Macdonald for The Official Carl Wayne Website
overview | playlists | gallery | press | interviews | guestlist | wm main menu