The Waterside, Ross-on-Wye International Festival, 9th August 2003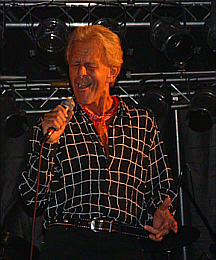 "Hollies happy to be at the festival"
The audience who braved the sweltering temperatures making a full house to see the Hollies were not to be disappointed.
The band, in their 40th year, still has two original members Bobby Elliot on drums and Tony Hicks on vocals and lead guitar. They were joined by vocalist Carl Wayne from the Move, ex-Mud guitarist Ray Stiles, Alan Coates on guitar and Ian Parker on keyboards – comprising the Hollies of today.
The band seemed surprisingly cool under the circumstances and spent almost two hours on stage delighting the audience, taking them back over four decades with classic tracks including "On a Carousel", "Yes I Will", "Look Through Any Window", "Just One Look", "Sorry Suzanne", and "Carrie Anne". An unexpected surprise came in the form of three Move tracks, with audience participation, "Blackberry Way", "I Can Hear the Grass Grow" and "Fire Brigade". Further, the song which really set feet tapping was a unique rendition of "Tiger Feet" one of Mud's top ten hits. Not surprisingly, "The Air That I Breathe" caused a deserved standing ovation as did the final track "He Ain't Heavy".
During one of their breaks, Carl Wayne paid tribute to the organisers by saying "Ross International Festival has the reputation of being one of the finest festivals in the country". Not a bad accolade from a band that has stood the test of time and are still as great today as they were in the 60s – long may they continue and let us hope they will be invited back.
Review by Serena Robinson, The Ross Gazette
Photo by Helen Macdonald