Royal Horticultural Society, Wisley, 12th June 2004
Set List
I'm Alive / Here I Go Again / Jennifer Eccles / Yes I Will / On A Carousel / Listen to Me / I Can't Tell The Bottom from the Top / Bus Stop / Flowers in the Rain / Sorry Suzanne / Just One Look / Blowin' In The Wind / Gasoline Alley Bred / Too Young to be Married / Look Through Any Window / Blackberry Way / Carrie Anne / Stop Stop Stop / Air That I Breathe / I Can Hear The Grass Grow / Tiger Feet / He Ain't Heavy, He's My Brother / It's In Everyone of Us
Tonight, the band, with no interval, ran through 23 songs in quick succession, relying on the music rather than their personalities to "sell" the performance. At least the skies, which had threatened rain for most of the day, cooperated by providing a gorgeous evening and sunset.

Yet, for personal reasons, the Wisley show was as emotionally satisfying to me as my first concert in Nebraska two years ago or last November's gig at "square one", Manchester. Any residual doubts as to whether I should have been at this show or even in the UK were gone long before the concert-closing "It's in Every One of Us". I was exactly where I needed to be, and with the musicians and friends that could best help me put a three day old personal tragedy out of my mind for a while.

As I had last seen the Hollies just seven months earlier, it was easy to forget that there had since been a spring tour and the introduction of new material. The first "new" song was "I Can't Tell the Bottom From the Top", initiated by Tony's comment about an unknown Elton John being enlisted to play piano on the studio version before the Hollies included a full-time keyboard player. Alan did a fine job on the lead vocal, which provides him with an equally brilliant showcase to replace last year's performances of "Butterfly". Ray joined him for harmonies, sans bass guitar (Ian added a deep bass figure from one of his keyboards). A wonderful performance of another 70s power ballad, to augment those perennials, "He Ain't Heavy" and "Air That I Breathe".

I was absolutely thrilled when, two songs later, I was finally treated to the only Move song the Hollies cover that I hadn't yet heard Carl sing with them. Carl was in top form for "Flowers in the Rain", and Ian's re-creation of the original oboe/cor anglais flourishes was key to making the song work. "Flowers" also inspired one of several references ("frolicking among the lily pads") to the garden-like setting in which the audience sat during the show. Of course Carl, who confessed to never having visited the RHS, despite living practically next door to the site for nine years, introduced "Blowin' in the Wind" by suggesting that "Wisley Bob (Dylan)" used to work in the gardens!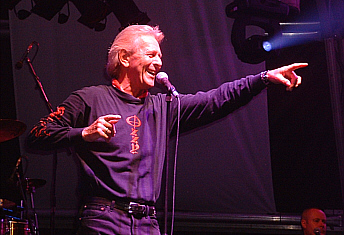 Despite having read about the West Coast version of "Look Through Any Window", I was unprepared for the experience. For some reason I had assumed that Tony and Alan played acoustics while harmonizing to Carl's soulful lead vocal. Not quite...! This was the Hollies' two six-string masters blazing away in a "Hotel California" meets "Freebird" twin electric lead guitar instrumental climax. WOW! Yes, West Coast...but also "the South's gonna do it again". The similar version they did a week later in Heppenheim, Germany, was also fine, but there is nothing to compare with a first encounter with this brilliant re-working of the Graham Gouldman masterpiece.

Naturally, I also enjoyed "Stop! Stop! Stop!", the song that scarred me as a Hollies fanatic for life - despite Carl describing it as "George Formby and the Hollies Live at Town Hall". Carl, what Formby played was a banjolele (a banjo-ukulele hybrid)! That makes a big difference to splendid banjo players like Tony, and mediocre uke players such as myself. Anyway, Tony's intro and the entire band's performance were spot-on, no matter what the four-string lead instrument is technically called.

While I am somewhat more partial to the Hollies' rocking 60s songs, rather than the 70s ballads, I will NEVER forget the performance of "The Air That I Breathe" that night, toward the end of the concert. To start with, Helen, Beth, our new friend Elaine and I were already doing what I can only describe as a half "sway dance"/half "group hug" I had initiated (I needed it emotionally; the wine connoisseurs among our group had additional reasons, I think!). Then Carl, who had earlier adapted a spare silvery-metal hat band I had brought him for use as a bracelet during the show, spotted us and made a dedication early in the song: "This one's for you, Bruce".

The Hollies and Carl won't permanently cure what ails you. But when you get that kind of love and support from friends around you in the audience AND another friend in the spotlight at the mic, itís easy to ignore the crush of real life for a few wonderful moments.

Despite a few technical and rapport drawbacks, Wisley had some truly beautiful moments.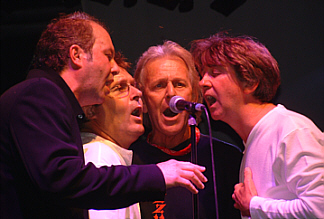 Photo copyright David Eaves, Helen Macdonald and Jane Simpson