Bielstein, Germany, 12th July 2002
Set List
I Can't Let Go / Here I Go Again / Jennifer Eccles / Just One Look / Bus Stop / On a Carousel / Sorry Suzanne / Yes I Will / Look Through Any Window / Blackbird / Too Young To Be Married / We're Through / Blowin' In The Wind / Carrie Ann / Stop! Stop! Stop! / He Ain't Heavy
Stay / Blackberry Way / Tiger Feet / Long Cool Woman / The Air That I Breathe
It's in Every One of Us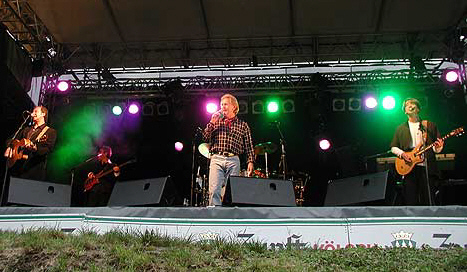 This show took place in Bielstein, a small town 3km from Wiehl in the Rhineland. The event turned out to be the beginning of a very pleasant, warm and funny evening. A Move fan Peter and his wife joined us at the front and brought over four ELO fans, who had all come to see Carl perform with The Hollies for the first time.
When you go to as many gigs as I do, you get a feel for the audience and this one felt a little bland and unenthusiastic. Announcements about the The Hollies were met with only mild applause and from my trip round the town during the day, it was evident to me, that very few spoke any English. So I was wondering what response the band would get that night.
On Carl came, bouncing away, full of beans and once again had the crowd eating out of his hand within a few minutes. Speaking a combination of English and fluent German, he soon won the crowd over. We even had Tony speaking German, Carl must have been giving him lessons.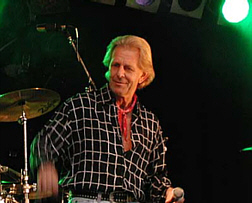 The set list was a repeat of Tuttlingen, but the inclusion of 'We're Through' now saw Ian Parker released from behind the synth, off the stage, down the bank and off on his familiar impish wanderings to the crowd below. They loved it.
'Carrie Anne' is now turning into a source of entertainment without a word being sung. Carl is continuing to develop his Caribbean dance! Poor Tony could hardly play his solo for laughing at Carl's antics.
'Blowin', 'Heavy', 'Air', 'Too Young' and 'Tiger Feet' all went down a storm and the audience clapped and sang along. 'Blackberry Way' though, seemed to be relatively unknown to most of the crowd, but the Move fan Peter and the ELO group did Carl proud and loudly belted out the words, when requested to sing.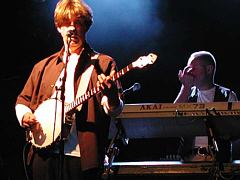 Peter, the Move fan was in raptures at the end of show and forcefully shook my hand saying the band were wonderful.
Again, they were on fine form, there were lots smiles and waving of their arms as the crowd sent them off to torrents of applause and cheers.
These 'boys' certainly have audiences eating out of their hands now and musically are beginning to fit together like the perfect unit. You can see them now reading and feeding off eachothers' performances and over a long and tiring week, they have gone out at each gig and given 100% effort.
Review by Carol Borrington