Westbury, USA, 2nd August 2002
Set List
I Can't Let Go / Stay / Just One Look / Bus Stop / Look Through Any Window / Stop in the Name of Love / Peggy Sue Got Married / Blackbird / Too Young to be Married / On a Carousel / Blowin' in the Wind / The Air That I Breathe / Carrie Ann / Stop Stop Stop / Long Cool Woman / He Ain't Heavy, He's My Brother
It's In Every One of Us
The venue for tonight was Westbury Music Fair, Westbury, Long Island, which for the first time in a while for me was an actual theatre and not an outdoor gig. In fact, it was a good job it was, because the humid blue skies of the day were rapidly turning into the blue/black of a vast thunderstorm. By the start of the show the heavens had opened, lightening flashed across the sky and huge rumbles of thunder shook the car park.

The opening act was again 'The Lovin' Spoonful'. For a number of the band this was home territory and they really rose to the venue and put on a great performance. I found the audience a little slow to respond but by the time they got into 'Don't Walk Away Renee', 'Mr. Tambourine Man', 'California Dreaming' and 'Summer in the City' the crowd were beginning to rock.
Next came The Hollies, Carl bouncing down that middle aisle like a man ready for some action and action we got. It took the crowd the first two or three songs to warm to the band, but by the end it was Hyannis revisited, with crowd standing and the band receiving tumultuous applause. The Hollies are certainly wooing these American crowds and Carl is going down a storm. But we must get him some choreography for the limbo dancing, Helen!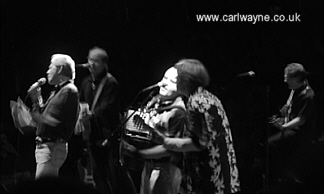 Comments I have heard in bars, foyers, and car parks have been absolutely positive and full of praise. I think the 'boys' can now add The New World to their Home and European successes. I am thoroughly enjoying the inclusion of 'Stop in the Name of Love', Carl's vocal is giving it a new soulful depth that I have not heard before. 'Carousel' just has me in fits of giggles as the 'the boys' go past one by one on their revolving stage. 'Air' sounded great. 'Carrie Ann' had the crowd singing in unison with the band and nearly raising the roof.
But, it was 'Heavy' that stole show. This was New York and as Carl pointed out the New York fireman after September 11th 2001 had called themselves 'brothers' and adopted this song. Carl and the rest of the band pointed out that they felt humble and privileged to perform it in honour of all who had died and survived this dreadful event. And how that performance reflected those words, I don't think in the thirty –five years I have been a lover of this band, I have I heard or felt that song sung with such depth and feeling or received with such love, not just by Carl's beautiful lead vocal but by the band as a whole. Maybe there is the message to us all; 'He Ain't Heavy He's My Brother' and in the words of their final song, 'It is in All of Us'.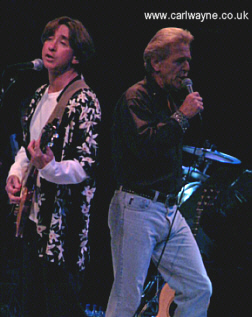 Review by Carol Borrington