Tuttlingen, Germany, 9th July 2002
Set List
I Can't Let Go / Here I Go Again / Jennifer Eccles / Just One Look / Bus Stop / On a Carousel / Sorry Suzanne / Yes I Will / Look Through Any Window / Blackbird / Too Young To Be Married / We're Through / Blowin' In The Wind / Carrie Ann / Stop! Stop! Stop! / He Ain't Heavy, He's My Brother
Stay / Blackberry Way / Tiger Feet / Long Cool Woman / The Air That I Breathe
It's in Every One of Us
| | |
| --- | --- |
| | The third gig of the Hollies' mini-tour of Germany was played at Tuttlingen as part of The Honberg Summer Festival in the lovely rural area of South West Germany. It took place on a picturesque woody hillside over looking town, in a large tent surrounded by trees and various food and drink vendors. This made a very attractive spot to hold the concert. In the first twenty seconds of The Hollies' performance, the bouncing style of Carl dominated the stage, producing a complete mood change to the poignant set of the young support band. The audience were now ready to Rock 'n' Roll. |
The band were again excellent throughout. The set list was as in previous shows, but with the addition of 'Blackbird', 'Too Young to Be Married', 'We're Through' and 'Stay'. 'Blackbird' displayed that wonderful three part harmony between, Tony, Ray and Alan. Sorry, Sir Paul, you wrote this great song, but I still love our 'boys' performing it.
Ian Parker stepped up to the mike to do the lead vocal in 'We're Through' and I am now positive he is definitely subtly adding some extra synth pieces to some of the songs. The one addition that was the highlight of the evening for me was 'Too Young to be Married' There are moments in your life that you would love to bottle and keep forever and for me that song at Tuttligen was one of them. Tony played one of the best acoustic guitar solos I have heard in thirty-five years, it was brilliant. Note perfect, it flowed beautifully, and the speed and accuracy that those fingers were moving across the frets at one point was poetry in motion. Both band and audience thundered with well deserved applause at its conclusion and at the end of the show, his playing that night, had the crowd chanting Tony's name.
'Blowin in the Wind' had every voice literally raising the tent roof from it mooring ropes and it was superb. There were calls from the audience for 'Sandy', which I am surprised the band has not included on this leg of the tour. I think Carl would make an excellent job of singing it, especially with the addition that beautiful guitar solo that Alan Coates added in the latter part of the nineties.
The whole band that night seemed to bounce with energy, activity and a pure sense of fun. Carl began developing a Caribbean-style dance for 'Carrie Ann' which is causing much amusement among fans and band alike, earning him the nickname 'Rickety Martin'! Bob seems to be drumming at present with a vigour that takes me back to my younger years watching the band. The three part harmonies were at their very best and some of Carl's sustained notes were bringing looks of amazement from those standing around me. I was getting as much pleasure watching the response of the crowd as watching the band. The hills of Tuttlingen were definitely alive with the sound of music that night!!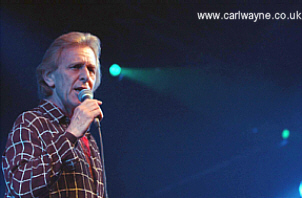 Review by Carol Borrington