Kearney, USA, 30th July 2002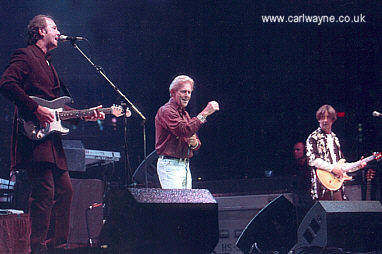 Set List
I Can't Let Go / Here I Go Again / Jennifer Eccles / Just One Look / Bus Stop / On a Carousel / Stop in the Name of Love / Look Through Any Window / Blackbird / Too Young To Be Married / Peggy Sue Got Married / Blowin' In the Wind / Carrie Anne / The Air That I Breathe
He Ain't Heavy / Stop! Stop! Stop! / Long Cool Woman
It's In Every One of Us
I did not realize until the Hollies were being introduced that this was their first American concert in nineteen years. I had assumed that they played at least some East Coast dates since the 1983 tour with Nash, so this was more historic than I'd realized. After an electronic/synthesized fanfare and a wash of flashing lights, the Hollies ripped into "I Can't Let Go" and didn't look back. The next 75 minutes or so was no less than a multiple musical orgasm. Carl is superb; I didn't actually think about Allan Clarke until some time after the show had ended. I was struck by how much of the between-song commentary was by Tony (I'd never thought of him as a talkative on-stage presence) but naturally, as a front-line performer and a senior member of the Hollies, the job would fall to him.
Before introducing "Bus Stop" Tony commented: "Our first worldwide hit, and probably the first one you remember."
Alan Coates was superb in handling Nash's original vocal during "On a Carousel", a comment I heard from quite a few people in the days to come.
"Blackbird" featuring Ray, Tony and Alan was absolutely gorgeous and much superior to the CSN version on the "Allies" live album.
"Too Young to Be Married" was again introduced by Tony: "I think this was a hit in New Zealand; we take them where we can get them." Tony at one point during the show also said he believed it was the first time the band had ever played in Nebraska, then teased the audience a bit by referring to "Keerney" before returning with the correct pronunciation of "Karney."
"Blowin' in the Wind" was the big surprise of the night to me because of the heavy dominance of brass, reeds and strings in the original, and because I never knew that this song was a hit in Europe. While Ian ably reproduced the orchestral parts, the prominent role of Tony's fat guitar lines really made this song work well in a live setting. Sorry, Allan, but I love Carl's vocal on this one!
"Carrie Anne" featured Carl "stepping out" in Caribbean fashion during the faux steel drum solo. Several women - teens to middle aged - began dancing in front of the stage at this point. I was pulled from my front row seat by one woman, which gave me an excuse to work my way up to the front of the stage and "dig", as we used to say, Tony's amazing guitar mastery!
"He Ain't Heavy" was dedicated by Carl to the fire fighters and other heroes of 9-11 "or 11-9 as we would say in England."
For "Stop! Stop! Stop!" I noticed Tony using a four string banjo, rather than the more common five string. This was the song that started it all for me and got the dancing going again which was continued and increased by "Long Cool Woman." This was a great version of this tune, including another guitar solo, but it was certainly different to hear vocal harmonies by Tony and Alan on this, the only Hollies hit with no harmonies on the original. Tony and Terry Sylvester once adjusted to Rickfors' vocal range; Tony and Alan now blend with Carl's voice. I loved it when Carl introduced Tony by saying, "I've worked with the greats, Eric Clapton, Jimi Hendrix and Stevie Ray Vaughan, and this man stands right beside them." I concur totally!
"It's in Every One of Us" was again dedicated to 9-11. Carl began singing this alone, but was then slowly joined by Alan, Ray and Tony for this a cappella version. It was a captivating end to the show.
Review by Bruce Brandt