Amstelveen, Holland, 9th June 2002
This event was a sporting occasion, with competitions and football matches going on all day. It was held in a small field in Amstelveen which is just outside Amsterdam, the actual music venue a moderately sized white tent with a very shaky wooden floor and a very low "stage". It certainly seemed well attended with hundreds of sporty looking people milling around, both in and outside the tent when we arrived at 7pm.

At about 8pm a young Dutch band took to the stage to perform what were mainly 70s disco covers. With a brass section, 3 exceptional girl singers, a colourful and energetic front man, and a great lead guitarist, they were excellent, and the tent soon filled with people dancing, drinking and generally enjoying themselves. I was immediately struck by how young the audience were, and the atmosphere in the tent started to feel very reminiscent of a night out at my old student union. I felt very much at home, but this was certainly not a typical Hollies audience. As far as I could see, they were not going to fit in, although this band were doing a terrific job of getting everyone in the party mood.

9pm came, the Dutch band left the stage to great appreciative applause and the familiar Hollies crew emerged to prepare the stage. People in the audience were already starting to look baffled and I don't think anyone apart from us was actually expecting the Hollies. The stage was set, and at about 9.30pm Ian Parker's familiar introduction filled the tent. The crowd moved forward a little as Carl, Tony, Ray, Alan and Bobby took their places, but a feeling of bemusement filled the air and I must admit myself that the band were definitely very out of place here. They must have felt this themselves, and it would have taken some courage to walk onto that stage, but they weren't going to let this mar their performance as they launched into "I Can't Let Go" with their usual enthusiasm.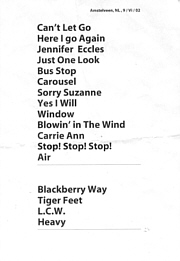 The audience remained unsure for the first few numbers, but Carl, clad in his black t-shirt and faded blue jeans gave his usual 200% effort, working his audience, egging them on. By "Jennifer Eccles", several people were beginning to recognise songs and sing along. As people joined us from outside the tent and the crowd grew merrier, the uncertain atmosphere began to fade and the band, particularly Carl, seemed to begin to relax a little more and enjoy themselves. By "Blowin' in the Wind", thanks to Carl's powerful, immaculate vocal and infectious showmanship, the boisterous young crowd was well and truly won over, with one particular young man seeming to know every word. The faces in the crowd began to change, becoming full of enthusiasm and admiration rather than doubt.
From then on, it was easy. Carl had broken the ice and "Stop, Stop, Stop" had him po-going around the stage in a fashion reminiscent of the Chelmsford Spectacular last summer. As the crowd followed him, the earth literally moved, with the temporary wooden floor moving and shaking and drinks flying everywhere, including all over Carl! He was really starting to enjoy himself now, with his microphone more airborne than ever and the microphone stand bending between his knees!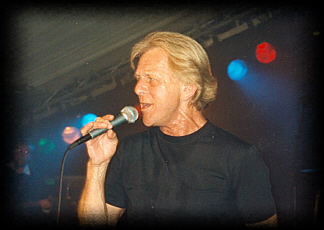 "Long Cool Woman" rocked, and inspired a young lady to join the band on stage for a short while. "Blackberry Way" was as stirring as ever. Not many people seemed familiar with the song, but its anthemic quality worked its usual magic and once again Carl had the crowd eating out of his hand. Although Ray chose not to take to the front of the stage for "Tiger Feet" his rendition of the song got another great reception.

"The Air That I Breathe" and "He Ain't Heavy" had their usual amazing effects. Everyone knew these and as people swayed in time Carl offered his microphone to a young man in the front who sang part of the chorus of "Air" beautifully.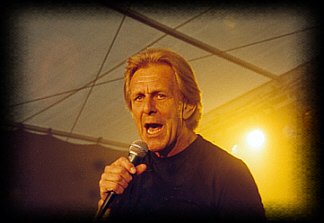 It was all over in an hour and I for one felt a great deal of admiration for Carl and the rest of band. They had won over and entertained an unsympathetic audience who had not been expecting them. Their appearance could so easily have resulted in disaster, in this tent full of inebriated and excited youngsters, who quite frankly did not appear to know who they were. However by drawing on the vast experience that 40 years in the business has given them they were successful, showing us that they are still a band who can appeal to people of all ages and from every walk of life. Moreover, Carl's versatility as an entertainer and his commitment to his art and his audience, whoever they may be, shone through from the opening chord.
I can't help remembering a conversation I had with a young Dutch guy as the Hollies began their second song or so. As some of the audience stared on in confusion, he asked me whether I knew the band. I told him yes, and said that maybe not many other people knew who they were, that this was possibly the wrong place for them. Smiling reassuringly, he said "So what?! They're bloody good!" and elbowed his way to the front to dance.

Review and Photos by Helen Macdonald