Cohasset, USA, 3rd August 2002
Set List
I Can't Let Go / Stay / Just One Look / Bus Stop / Look Through Any Window / Stop in the Name of Love / Peggy Sue Got Married / Blackbird / Too Young to be Married / On a Carousel / Blowin' in the Wind / The Air That I Breathe / Carrie Ann / Stop Stop Stop / Long Cool Woman / He Ain't Heavy, He's My Brother
It's In Every One of Us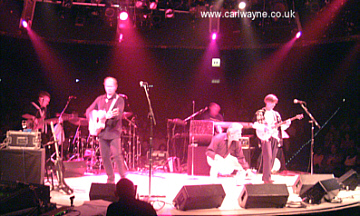 Well, from New York back through four states and a lot more of that tarmac, to Massachusetts and on to Cohasset. This is a very rural coastal area, very popular with tourists. And it is beautiful; the surrounding houses were like a scene from 'Gone with the Wind'. Eleanor Roosevelt described one of the streets in Cohassett as one of the most beautiful in the world.
It was another circular tent in woodland surroundings, with that now familiar revolving stage. Again, the first act was the 'The Lovin' Spoonful' and I am developing quite a liking for these boys' music. It was Saturday night and this crowd were out for fun from the first minute of the show.
| | |
| --- | --- |
| | Following them, once again down the centre aisle, bounced The Hollies to the best applause I have ever heard an audience give them. They are getting some great reviews over here and their reputation is now starting to proceed them. They are filling a musical niche that is desperately wanted by many, not only for live, real music but hopefully recordings to go with it. People were dancing at the back of the tent, some stood on their seats, others danced in the aisles, all clapped and sung along. 'Carrie Ann' again had the tent roof lifting from its moorings. There was a lot of audience interaction, Carl holding the mike out to individuals to get them to sing and they loved it. 'Air' had the audience joining in unison. |
This was a very emotional show, you could see that band were awed by the response they were getting and what a response, words cannot describe it. There were audible intakes of breath as Carl hit those first long notes of 'Blowin in the Wind'.
And 'Heavy'. Well folks, I openly admit to shedding a tear or two and Carl and the rest of the band were taken aback by the sheer joy and warmth it received at the end. You just had to be there, I was lost for words. This was the best and most emotional show I have seen in my whole thirty-five years following The Hollies. I always knew they were good but this, well! The Americans love them and have taken the band to their hearts. Carl is an absolute hit out here.
This has been a hard tour to date for the boys, the distances have been unbelievable and I know that it took them nine hours to travel to this gig. Yet, still as tired as they looked and it did show in their faces at the end of the show, they still walked out on that stage and gave it all. If there was any doubt that this is a 'superband' then, what I have seen in America, should dispel that forever. In The Hollies and Carl, we have six of the finest examples of British Rock' n' Roll. They have been a credit not just to themselves but true ambassadors for Britain.
Review by Carol Borrington
Photos by Charlie Borrington