Lincoln Castle, 25th August 2001
Summer Magic: The Next Generation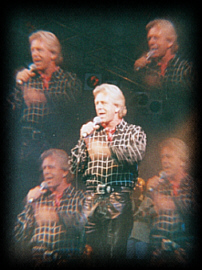 It was Bank holiday Saturday and I was driving through the more leafy parts of Nottinghamshire to see The Hollies perform at Lincoln for the first time, if memory serves me right, since 1994.The sky in front of me was ominous shade of thunderstorm black and the dreaded weather curse theory was crossing my mind again. It's The Hollies, it's outdoors, and it's going to be wet. On this occasion, I had brought my eleven-year-old 'Garage' indoctrinated nephew, and was not sure what he was going to make of this excursion with his aunt. The Hollies had been playing even before his mother was born!
As we traversed the steep road to Lincoln Castle, the site of the venue, the first flashes of lightening and thunder danced around the sky. As we queued to go in through the gates and great walls of the castle, it started to rain. The portents were there, but yet again, I was to be proved wrong, as the weather held mainly dry throughout the evening.
| | |
| --- | --- |
| The setting for this venue was to say the least impressive and different. Safe within the stone walls of Lincoln Castle, a site which goes back to Roman days, with its vineyards behind one wall and its prison chapel with coffin shaped pews, its towers and dungeons, and overlooked by the 12th century cathedral, stood a stage emblazoned with the words 'Summer Magic'. It was going to be a night of just that. The audience gathered and sat down to picnics, glasses of wine, and hot dogs in the grounds of the Castle. I remember thinking if only walls could talk; I wonder what they would have made of this sight. | |
The first act was Sons and Lovers and my nephew's first comment was, 'They're old!' Yet, I remember this Band well from my mis-spent youth and was greatly pleased with their performance. Showwaddywaddy followed them on stage, and dressed in their brightly coloured black lapelled jackets and traditional fluorescent socks, soon had the audience rocking away, 'Under the Moon of Love'.
The Hollies were the final act; this was a shorter programme than fans are used to in theatres, but still contained the treasured favourites like Yes I Will; Stop, Stop Stop; Carrie Anne; Bus Stop; and Air that I Breathe.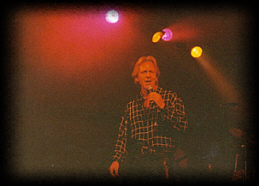 I missed Look Through Any Window completely because my nephew had suddenly discovered that Tony was playing a twelve-string guitar and wanted to know why he had more strings than everyone else! He also caught my attention in Blowin' In The Wind', as he was happily singing along with Carl and I asked him how he knew the words, 'We sing it at school, of course!' was the answer and he added rather sadly, they had missed a verse! By the time we got to Blackberry Way, he was transfixed and through Air That I Breathe he was swaying along with the rest of the audience.
| | |
| --- | --- |
| | The highlight of the evening for me again was Heavy. I don't know what Carl and the rest of The Hollies saw that night, but part way through the song, I turned and looked behind me. The memory of what I saw, will stay with me for a long time. Maybe it was what I was seeing, but Carl's performance that night seemed to have an extra magic. Over the heads of that sea of swaying people, some of who were linked arm in arm, beyond those ancient walls, were the gothic spires of Lincoln Cathedral. They were floodlit and stark against that dark thunderous sky, and somewhere in the midst of that church, I could almost imagine God singing and clapping along with that happy throng of humanity. Summer magic is the best description of The Hollies and Lincoln for me that night. |
Oh yes, and my nephew's opinion. Well, when can he go again and guess what he wants for Christmas? I think we will start with six strings first. Anyone know how to teach guitar!?
Review by Carol Borrington