Epsom Downs Racecourse, 15th August 2001
An Evening at the Races

For many years, I have been nursing a number of theories about The Hollies, one of which goes as follows; The Ministry of Transport waits until The Hollies plan their tour itinerary before deploying its major roadwork schemes, in an attempt to drive the fan club mad! True to form, here I was once again in a contra flow on M25 heading for a concert.
The date August 15th to be precise and I was heading for Epsom racecourse. Sat there, my right arm and face going a shade of lobster red in the hot August sun, I was looking forward to the evening with relish. When I finally parked at Epsom, the bright sun had given way to large raindrops on my windscreen and I smiled knowingly, itís The Hollies and itís an outside gig, I am going to be soaked again! Thus my second theory on The Hollies and the weather curse was coming into play.
Yet I have to report I was wrong. By the time of the first race, the warm August wind blowing across the Downs, had removed all trace of clouds and the evening was set for fine weather and a great show. I have to admit the only memory I have of the racing, is Rita Kew-Moss and her granddaughter, who turned out to be a bookmakerís nightmare. They managed to pick most of the winners, including a rank outsider!
The concert though was another matter all together. My first impression was the size of the stage. Compared to their last outdoor gig at Crawley, it was small but adequate and a lot safer looking than the one at Newmarket! They entertained us to all the great favourites; Iím Alive, Yes I Will, Bus Stop, Look Through Any Window, Sorry Suzanne, Jennifer Eccles, Carrie Anne, The Air That I Breathe, Long Cool Woman and Carousel, which Alan Coates has now truly made his own by singing lead vocal.
We were treated to the Dylan Classic, Blowin' in the Wind, to which Carl Wayne has brought such flair with those incredible sustained notes and vocal quality. Tony Hicks' guitar solos were an absolute pleasure to listen to. In fact, with the added mastery of Bobby Elliott on drums, Ray Styles on bass and Ian Parker on keyboards, this has to be for me, one of best line-upís of The Hollies, I have seen to date and that is with thirty-five years following under my belt.
During the show we were rocked to The Move classics Flowers In The Rain and most of all my favourite Blackberry Way. This has been a great success at every show I have seen the Band perform and Carlís involvement of the audience was a real show winner again at Epsom, with the race-going fraternity happily joining in full voice. A further treat was the inclusion of the Mud classic Tiger Feet, with Ray Styles stepping up to the mike to take lead vocal. The attempts at the dance movements to this song by Alan, Ray and Tony, I have to admit, reduced me to what can only be describe as adolescent fits of the giggles. Great effort boys, but watch the backs!
The Hollies ended the show with two beautiful songs. They had chosen to finish not on a thundering RockíníRoll note, but with two dramically powerful ballads. The effect was different, but to my mind leaves a very powerful and lasting image. At Epsom as at all their other shows Heavy was the penultimate song. I know I will upset the purists here, but I have to say that with the clarity of Carl Wayneís voice and the dramatic skills that he has brought from his West End experiences, he has taken this song to another dimension of greatness and he is a worthy successor of these beautiful words.
The finale is breathtaking in its simplicity. The Band crowded around one mike to sing in that harmony which has always been a trademark of The Hollies. íItís Every One of Usí was a sombre reminder from The Band of how lucky we all were to have been able to enjoy a great evening and left the audience at Epsom, as at their other shows, in contemplation and awe.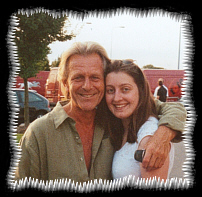 Review by Carol Borrington