Tilgate Park, Crawley, 6th July 2001
I arrived at Tilgate Park after the start of the first performance and it was already heaving with people throwing wine and beer down them and generally having a good time.
The first act were 'Sounds of Simon and Garfunkel'. They were very good indeed and in parts, you'd be forgiven for thinking that a reunion of S&G was taking part in the outskirts of Crawley.

They were followed on to the stage by an alternating pair of singers 'performing' as Tom Jones and Robbie Williams. Whilst not my cup of tea, the ladies in the audience seemed quite impressed - although I think no knickers were thrown!

At this point, the M.C. announced that there was between 5000 and 6000 people in the park, which seemed about right.

Before I knew it, a Steps tribute band were on. I'm afraid Steps do nothing for me, but before I knew it, there were hundreds of kids stampeding to the front and dancing in front of us doing various gestures with their hands and screaming!
At 9:13 PM (nothing like being accurate) the familiar sound that tells me we're about to get right down to business began and Ian walked on to the stage. They launched into "I'm Alive" a

nd taking a look round the audience there were a lot of people singing and nodding their heads, and lots of clapping going on. Not a bad start for the boys I felt. They then launched straight into "Here I Go Again", another crowd pleaser. Brief hello to the audience and then "Jennifer Eccles". At this point I left the sanctuary of my beach towel (and beer!) and headed for the front. I wasn't going to sit down all night when they were working their magic. I got an approving nod from Tony when I shouted out 'Go on Hicksy' as he reached for his guitar sitar. Carl even maintained his pose as I took a photo of him, and then thanked me!
There were no surprises in the set - just a slightly cut down version of the normal one but I don't think anyone who went was disappointed.

When they started playing "Air", I could hear people all around going 'Ooooh, I love this song' and it was just fascinating watching the reaction of the people as the song unfolded. "Tiger Feet" and "Long Cool Woman" brought hundreds of the people flooding to the front...it was just a sea of people waving their hands and dancing - 5000 may not be the biggest crowd I've ever seen, but when all of them were focused on the boys doing what they do best, then, well, it was an amazing sight to say the least.
Carl, (as he does so cheekily well!) asked the crowd if the Hollies had missed any songs.

Of course, "Heavy" was the order of the day. Remember the reaction to "Air"? Well, that was nothing compared to this. As soon as the opening notes from the harmonica began there was a cheer and murmurings of approval from all quarters.

It was now choc-a-bloc down at the front - there were people holding hands, waving candles and lighters in the air and singing along as though their lives depended on it. If I were to drop my stiff upper lip for a minute, I'd go far as to say it was one of the most moving moments I think I've ever experienced - I have never seen a song have such a profound effect on so many.
An ovation was the reward for the boys' efforts.
"It's In Every One Of Us" - maybe 1%, maybe 2% of the audience knew it. But again, as they sang, the audience just looked on transfixed, even mesmerized, as one by one an extra harmony was applied...and then as soon as it had started, the evening was over.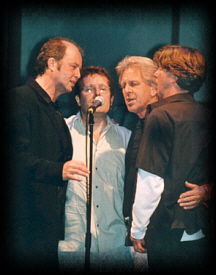 This was my first ever open air concert with The Hollies, and I've made a vow it won't be my last!

An incredible night.
Review by Robert Bird
Photos by Ralph Emerson