Chelmsford Spectacular, 27th August 2001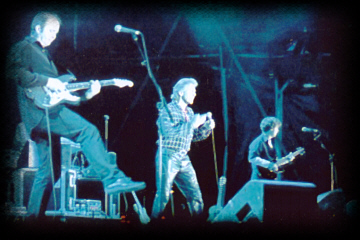 The Chelmsford show was to be the last of a nearly twelve month long tour for the Band and another of those outdoor gigs. The venue was a huge parkland on the outskirts of Chelmsford, in the middle of which was an impressive, high stage, with two great video screens positioned on either side. The stage itself was well sited at the bottom of a gently sloping hill, providing a view to the punter from all angles.
This show was to put on one of the best night's entertainments of the four outdoor gigs. Dave Lee Travis' witty banter entertained us, while the various bands changed over. We were treated first to a Carpenters tribute band, with a very talented young female singer, who sang Karen's part beautifully and brought back some lovely memories of that now sadly departed and talented artist. Next to come on stage, was a Fleetwood Mac tribute group. I am not a lover of tribute groups, but this one did great credit to those wonderful 'Mac' classics.
The Manfreds followed them. I had missed seeing this group in my youth, but had heard favourable reports about their performances over the last few years. So, I was looking forward to seeing them perform and hearing Paul Jones in particular sing for the first time. They were excellent, and the music and the Fosters were not only having an effect on me. The approximately 16,000 people that stood or sat on that hillside behind me, were now really getting into the mood of the evening. I remember turning to a friend behind and saying The Hollies were really going to have to go for it that night to beat the Manfreds' performance. And you know what, they did!
I make no apologies for repeating the great musical admiration I have gained for Carl Wayne over the last twelve months. Along with the rest of the Band that night, he seemed to positively feed off the excitement and enthusiasm of that audience. The talent within that Band is now without exception unquestionably great, but in front of that vast crowd, we got a real glimmer of what they really could achieve with this new and versatile line-up. Carl Wayne worked every inch of that stage and that audience to perfection. He certainly must now rank as one of Rock'n'Rolls' greatest front men.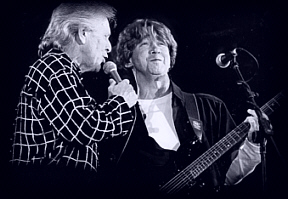 Tony's playing was superb, even if he was plagued with a dive-bombing moth intent on a seek and attack mission. Bobby masterfully powered the engine room of the Band with some impressive drumming. Alan Coates now our third most senior Hollie, and the man I watched do his first nervous performance, sat at his feet twenty odd years ago, has grown so much in statue and ability in that time, he is a first class performer in his own right. Ray stepped to up the mike with such authority and composure, to take the lead vocal on 'Tiger Feet', it was a pleasure to see him perform. Last, but not least Ian, with all that technical equipment, the man who blends so well the old and new of the musical world.
All the favourites were there; nothing was missed, even to the point of having to sing through the fireworks to finish their repertoire, because the previous bands had run late. During 'Stop Stop Stop' Carl grew springs in his feet as he pogoed around the stage, the audience gleefully obeying his command "Jump, you bastards, jump!" 'The Air That I Breathe' was masterful. The huge crowd swayed rhythmically to its passionate tones, as lights and lanterns twinkled like a myriad of stars around the park. Young children sat raised high up on their parents' shoulders, clapping and smiling, making this a real family event and proving music can be shared by all generations. 'Heavy' had the audience raising their voices in unison and bless you Carl, that song could have almost have been written for you, it sounds so beautiful now. 'It's In Every One of Us' was as poignant as ever, with the band uniting in the centre of the stage, arms wrapped around each other. The Hollies are now living musical history. History though, needs to be recorded and it is surely time to go back to the studio boys, and mark this new chapter in your career with something concrete and lasting.
The show thus ended, with the fan club coming together for those goodbye hugs that mark the end of every tour. Some of us have been together now for so long, we are almost family. With the advent of Carl, not only must we remember that we have had the gift of spending another year together, but also with the arrival of his fans, the family has grown and what a good addition they have turned out to be. My special thanks to Helen for providing this opportunity to share with The Hollies and Carl's fans this new experience. I hope Carl's fans enjoyed this very special 'Carousel' ride like the rest of us and will 'Stay' just a little bit longer.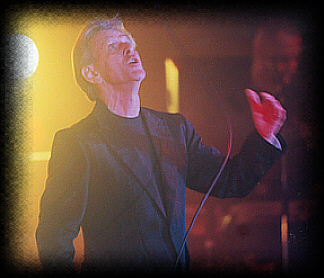 Review by Carol Borrington