Milton Keynes Theatre, 29th October 2000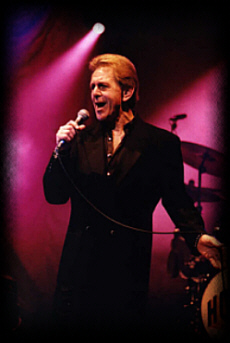 Set List
I'm Alive / Here I Go Again / Jennifer Eccles / Just One Look / Soldier Song / Bus Stop / Flowers in The Rain / Butterfly / I Can't Let Go / King Midas In Reverse / The Baby / Blowing In The Wind
--------
Stay / Sorry Suzanne / Yes I Will / Look Through Any Window / Peggy Sue Got Married / Blackbird / We're Through / Carrie Anne / Stop Stop Stop / The Air That I Breathe / Blackberry Way / Tiger Feet / Long Cool Woman In a Black Dress / He Ain't Heavy, He's My Brother
Having enjoyed two excellent shows at Hemel Hempstead and Cambridge I was once again looking forward to seeing Carl and The Hollies at Milton Keynes where the show was being filmed for their promotional video for their forthcoming tour of Australia.

Milton Keynes theatre is only a year old and holds approximately 1,400 people. Despite the atrocious weather conditions I am happy to say it was a full house. At the previous shows I had front row seats but this time I was in the upper circle where I saw the show from a different perspective.

The acoustics were amazing, emphasizing the brilliant harmonies between Carl, Tony and Alan and the lighting was superb.

The set opened with 'I'm Alive' and from that point onwards the audience came alive too. With a very nice welcoming speech from Tony to Carl the show moved along packed with energy and audience participation especially when Carl sang my favourite song 'Blackberry Way' which bought back wonderful memories of when he was with Roy Wood and the Move.

It's great to see Carl fronting an excellent band again, and with his wonderful distinctive voice The Hollies sound as fresh now as they did thirty years ago.

The show just gets better and better and I'm looking forward to seeing it again at Leicester.
Review by Elaine Wayman
Photo supplied by Helen and Claire Wright