Congress Theatre, Eastbourne, 14th October 2000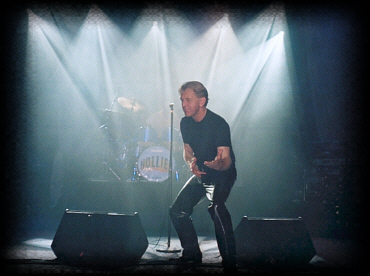 Set List
I'm Alive / Here I Go Again / Jennifer Eccles / Just One Look / On a Carousel / Soldier Song / Bus Stop / Flowers in The Rain / Butterfly / I Can't Let Go / King Midas In Reverse / The Baby / Blowing In The Wind
--------
Stay / Sorry Suzanne / Yes I Will / Look Through Any Window / Peggy Sue Got Married / Blackbird / We're Through / Carrie Anne / Stop Stop Stop / The Air That I Breathe / Blackberry Way / Tiger Feet / Long Cool Woman In a Black Dress / He Ain't Heavy, He's My Brother
There was a buzz in the theatre bar before the concert, a lot of people were like me waiting to see how Carl would perform.
It was time; rousing music, search lights moving in all directions and the smoke machine going into overtime. Of course Bobby, Ian, Ray, Alan and Tony came on first to great cheering and applause, then the man they'd waited to see and hear made his entrance to rapturous cheers and energetic clapping. Carl jiggled his hips in a side ways motion, then did a clever trick with his mike and waved to all corners of the theatre. Then 'I'm Alive' burst into life with great gusto. After that my worries about Carl Wayne had gone forever. The harmonies with Carl, Alan, Tony and Ray hiding at the back sounded excellent.
It was only when Carl got to sing the big ballads, that he put his own style to the renditions with amazing results. Dylans' 'Blowing In The Wind' (Hollies' arrangement) had the hairs standing on the back of my neck. Rickfors' Years 'The Baby' suited Carl's style to the ground, along with Tony's sitar guitar. We had the man with the torch again, Ian Parker walking down the aisles, while Carl took over on keyboards and singing. Then Ian returned, singing solo at the end of the song, very entertaining.
Buddy Holly sang lead again with The Hollies on 'Peggy Sue Got Married', and poor Carl was relegated to tambourine. Alan Coates repeated his excellent solo spot with 'Butterfly'. To make Carl feel at home, two Move songs, 'Flowers In The Rain' and 'Blackberry Way' really got the crowd clapping. The Beatles' 'Blackbird' with only Tony, Ray and Alan harmonizing was excellent, Carl having a rest at this time. Ray Stiles' old band Mud was highlighted, with Ray singing lead on 'Tiger Feet'.
The band have not lost any of their wit with Carl in the fold. Tony wore a bright red outfit and said 'I'm a flower among dirty sods' Carl replied 'Yes, a pansy'. They seem to be really enjoying their banter.
Carl did an excellent rendition of 'Soldier's Song', the harmonies were really tight, amidst spooky red lighting. This had the hairs standing on my neck again. 'The Air That I Breathe' Carl dedicated to Allan and Jennie Clarke, 'Long Cool Woman' had them dancing in the aisles and finally 'He Ain't Heavy' was, what can I say, magnificent. I'm running out of words to say. Carl Wayne has my vote.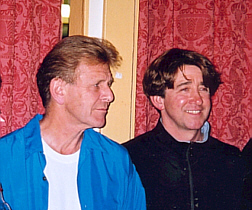 Review by Geoff Hudson
Photos by Helen Macdonald