Exclusive Interview with Rob Caiger, September 2001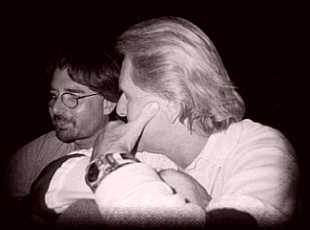 RC: Your solo album has just been released on CD in Japan after thirty years. Could you remind us about the history of the album? How did it come about, was it something that you'd planned while you were deciding to leave The Move?
CW: No. I never wanted to leave the Move, really. I never wanted to leave Roy Wood, we grew up together and I'd have been quite happy to have worked with Roy for the rest of my life. But I've always been somebody who moves on, my own man. My temper sometimes gets the better of me, and often I jump before I am pushed. But I've made my career very interesting and I'm still here fighting with the same energy that I had 30 years ago.
I left the Move in 1970 and you have to recognize the climate of the time. The biggest thing in the world was Tom Jones and Elvis Presley in Vegas. Remembering that, it is understandable that Don Arden, my manager at the time, and who was a frustrated singer himself, should want an artist in Vegas. He didn't realize that I didn't have the talent of Tom Jones or the talent of Elvis Presley, he just saw me as an artist in Vegas. He wanted to stand me there at the MGM Grand and say "That's my man." He didn't have a clue whether I could deal with it or not, he didn't bother to ask me. So the first thing he did when I left the Move was put me with Don Black and Dennis King. The sweetest guys, but they were not for me. I made a song with them that I would actually put up myself as the most abysmal record of all time. If anyone else says they've got one worse, I would defy them! I don't think anyone's made a worse record than "Maybe God's Got Something Up His Sleeve"! In fact, it was so bad that Annie Nightingale, who's a mate of mine, reviewed it on Radio 1 and said "I think Carl's recorded this for a joke!" Everyone thought I had gone mad, but I was adamant I wouldn't have anything to do with the Move or that kind of song. Wayne Bickerton from Polydor approached me with "Sugar Baby Love" which he thought would be a great song for me. I listened to it and said "I'm not recording that pile of crap!" And of course it was Number 1 six weeks later! I should have taken it, I was stubborn.
Next, RCA put me with a lovely guy called Don Paul. Not really a great producer, but he had great soul, great feel. We became wonderful friends and we put together, very lovingly, this album called "Carl Wayne". We looked carefully at the songs. He wasn't the greatest producer and I wasn't the greatest singer, but somehow we concocted this album which, I think, thirty years later still sounds pretty good.
RC: Yes, it still stands up. What surprises me is that it seems to be deliberately steering you away from the material you recorded with the Move and there are so many different styles on it.
CW: There are. For example, I've always loved "On Broadway" and we did a very unusual version of that. The whole album was fraught with problems though. We recorded at Command Studios at Piccadilly, which never settled as a studio. There was always a mixture of engineers and it was quite traumatic, yet there were some momentously happy times. Don was a great friend of Dusty Springfield. She, along with Sue and Sonny, who were two very famous session singers, came and sang on three or four tracks on my album. 1 o'clock in the morning Dusty and I would be pissed out of our brains, sitting in the studio. You can hear her clearly on "Spirit in the Sky" and various songs. It's great.
RC: Was it never guessed at the time? It was reviewed quite extensively.
CW: It was never mentioned that she was on it, because contractually she couldn't be. She did it as a favour. That's what happened in those days, you didn't look at it from a legal point of view as you might now, where everything is checked out. It was like me singing on "Keep your hands on the Wheel" for Roy. I never got a credit for it, but I sang on it. John Bonham was playing drums on it.
There were some great songs on "Carl Wayne". "I Scare Myself" ; very odd song. "Jubilee Cloud", great John Kongos song. Great version of "Spirit in the Sky"; "Sunday Kind of Love"; they were all kind of releases of the emotions I felt. "Sunday Kind of Love" is a wonderful, blues song. Although at the time a lot of people maybe didn't give me too much credit for the album, or Don, it is probably because running concurrently was ELO and Wizzard. We were going to get lost in that. We were up against the geniuses of Roy Wood and Jeff Lynne and their own vehicles. Don and I were starting from scratch.
RC: Who actually picked the songs? They are very wide ranging.
CW: Both of us, really. The most difficult thing was trying to find a single. I actually wanted to release "Spirit in the Sky" and they wouldn't. I think they released "Take My Hand for a While", but the version on the album is different to the single that was released. "Take My Hand for a While" is a Buffy St Marie song. The powers that be decided that the version on the album wasn't commercial enough to be released. The version released was very string complimented, very Vegas, which was, again, a reflection of the time.
RC: The second solo album was never released?
CW: No, extraordinary. I moved from RCA and went to Polydor. They introduced me to Johnny Harris who was Tom Jones's musical director. He used to do some extraordinary arrangements. We did an album with people like "Heads, Hands and Feet" and Brian Bennett, who stepped in as a drummer. Some great songs; the Eagles "Take It Easy", Leon Russell's "A Song For You", "Respect Yourself".
RC: That's more your style, isn't it, gospel and soully?
CW: It was where I wanted to go, but it was never released. It sits on a shelf in Polydor. That's a tragedy, because it was a good album. Once again, it gave me the opportunity to explore new areas of my voice. It would be great to get that Polydor album released one day…..!
Fingers Crossed!!
Transcribed by Helen Macdonald