1991
If there is a more moving in London right now than Willy Russell's tremendous epic of Liverpool life, I wish you'd lead me to it. For shining all the way through his big, gutsy musical Russell manages to instill the magic ingredients missing from most of the West End blockbusters-decency, humanity-and almost unbearable pathos.
| | |
| --- | --- |
| Stephanie Lawrence is a wonderful revelation. Whether bawling out her brood or reflecting quietly on the body blows life has dealt her, she ditches all the glamour she is known for and is sheer magic in the part. Then there's the voice...from the haunting Marilyn Monroe to that anthem of grief Tell Me It's Not True, this extraordinary powerhouse of musical energy spills over the footlights and into the hearts and minds of the audience. There is not a dry eye in the house. | |
| | |
| --- | --- |
| | Carl Wayne, ex-lead singer of the Move, is the second surprise. As the sardonic Narrator he is judge and jury of the impending tragedy and the chiseled cheek bones stare impassively through the highs and lows of the unfolding lives. The chilling Shoes Upon the Table is sung with power and frightening intensity...and then reprised through the show as the years roll by. Macho and mesmerizing, he is the Greek Chorus on the Mersey. |
1993
| | |
| --- | --- |
| As a treat for London theatre goers, singer and actress Barbara Dickson has returned to play the lead in Willy Russell's Blood Brothers...The other treat of her return is to hear Carl Wayne, formerly of the Move, as Narrator. | |
1996
"Pop stars never die they just become Brothers"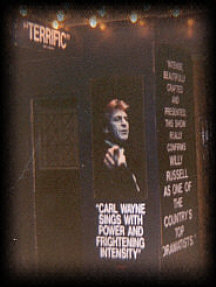 Those flocking to see David Cassidy strutting his comely loins from this week in the West End fixture Blood Brothers might not realise that they will be in the presence of more than one chart-topper.
| | |
| --- | --- |
| For the part of the Narrator in the Willy Russell musical remains in the grasp of Carl Wayne, one-time member of Sixties darlings the Move. Carl strutted his curiously static hairstyle alongside Roy Wood on such lounge bar favourites as Blackberry Way and Flowers in the Rain. But, hey, Carl's got no regrets: "I've been in Blood Brothers for five years-longer than I was in the Move." | |